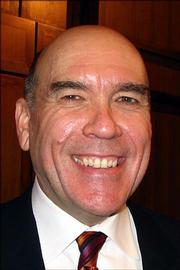 Richard Lariviere's college-age daughter wanted to go to the University of Texas at Austin, but only if her father resigned as head of the school's College of Liberal Arts.
"She said that she knew if I was dean, I would look up the academic record of every boyfriend she had, which is probably true," Lariviere said.
Instead, Lariviere's daughter, Anne, picked Barnard College. And after a 24-year-stint at UT, Lariviere and his wife, Janis, are headed to Kansas.
Lariviere, 56, will replace David Shulenburger as KU's provost and executive vice chancellor. Shulenburger will be president of academic affairs at the National Association of State University and Land-Grant Colleges.
Regardless of his daughter's choice to go to a private school, Lariviere says he has deep respect for public universities and their vital role in society.
"I feel very, very, very strongly about the importance of public institutions like KU," he said. "We have this remarkable network of public institutions throughout the entire country that provide 70 percent of the higher education degrees in America. At its most fundamental level, (public higher education) provides really good education to large numbers of citizens that wouldn't otherwise have access to higher education."
An Illinois native, Lariviere majored in history of religions at the University of Iowa. He received his doctoral degree in Asian studies from the University of Pennsylvania.
He started his career in higher education as a lecturer at UPenn before returning to Iowa as a visiting assistant professor in 1980. In 1982, he arrived at the University of Texas at Austin as an assistant professor in the department of Oriental languages and literatures.
Lariviere spent 12 years as director of UT's Center for Asian Studies. Following that post, he became associate vice provost for international programs in 1995 and dean of the College of Liberal Arts in 1999.
Looking back on his time as dean, Lariviere said he's proud of the quality of the faculty in the college.
"It's better than it's ever been in the history of the university," he said.
He said the faculty also is more diverse than its ever been.
He said he wanted to come to KU because "I admire what the faculty have done there and what the institution has built."
KU administrators, including Shulenburger, for several years have discussed KU raising the bar on its admissions standards.
Lariviere said he needed to study the issue at KU more closely. But he said there was once a time when universities could afford to have lower admissions criteria. In those times, students who couldn't make the cut flunked out. But institutions are finding that it is expensive to accommodate students who aren't going to be successful.
He said he thinks KU is just beginning to enter in the stage where it's making harder judgments about who is admitted.
Lariviere said KU is a gem, though others may not always see it that way.
"I think KU is a better institution than most of the rest of the world understands," he said. "I don't know why KU's excellence isn't better known."
Copyright 2018 The Lawrence Journal-World. All rights reserved. This material may not be published, broadcast, rewritten or redistributed. We strive to uphold our values for every story published.