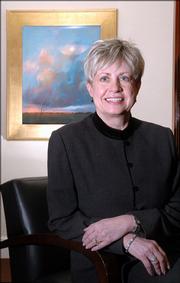 Not long ago, when Patricia Long was visiting Baker University's campus, she spotted a group of prospective students winding through the buildings on a guided tour. She imagined a future in which, as president, she would personally welcome them to campus.
Long is not only the newly elected president of Baker University in Baldwin, she is the first female president since the university opened in 1858.
"There's an extra opportunity and responsibility of being the first at anything," Long said.
With the acceptance of the position, Long, a Kansas native, is now finishing her duties as deputy chancellor for university communications at the University of Missouri-Kansas City, where she's worked as an administrator since 2000.
Working in higher education administration since 1983, Long says she really never imagined herself to be a college president. However, she admits that during the time spent on a progressive leadership track, many of her colleagues would disagree; saying she'd make a great college president.
The difference in opinions only adds to Long's humble but excited attitude for her future at Baker.
"After two days of being on the campus, I really wanted to be a part of it," Long said. "I experienced a pride in being part of Baker ... a loyalty to the institution."
Background in education
Long is originally from Wheatland, Mo., a small town which Long says makes Baldwin look big. She married her high school sweetheart and was a first-generation college graduate.
After attending Southwest Baptist University, Long spent seven years in the Kansas City, Mo., School District, followed by 17 years at Johnson County Community College, where she perfected her teaching skills and began to work as an administrator.
Becoming president of Baker doesn't change a whole lot for Long, except for location.
"Kansas has become our home," Long said. "I'd like to be (at Baker) for several years."
Welcome reception
The student response about Long's hiring has been positive, according to John Frazier, dean of student development at Baker University. Students involved in the interview process quickly identified with Long's student-centered approach. She interacted in a warm and genuine manner, making her the best person for Baker University, according to Frazier.
"Fortunately, we're able to replace a long-standing president who is approachable to students with a new incoming president who embodies the same compassion and caring," Frazier wrote in an e-mail interview.
Due to Baker's smaller enrollment, presidents are given the opportunity to personally interact with the student body, which Frazier says is an important part of the university dynamic.
Long will oversee more than 3,000 undergraduate, graduate and doctoral students in the College of Liberal Arts and Sciences, School of Professional and Graduate Studies, and schools of Nursing and Education.
Capitalizing on the smaller enrollment, Long said she wanted to be an advocate for students, valuing what's best for them. She believes this relationship can only be accomplished by rolling her sleeves up.
"I just really like hanging out with students," Long said. "My husband and I, we both love sports. He is so excited to be able to watch a football team, a basketball team and a track team. You will see one of us at virtually every sporting event."
Students have been spoiled with a president who is personal and collegial, according to Frazier. He hopes Long will continue the growth and development that took place under former president Daniel Lambert's leadership.
"I think that community-building and the establishment of relationships will be key to immediate success," Frazier wrote. "Our new president is ready for those responsibilities."
In addition to all the hoopla comes a transition that Long anticipates. Most importantly, she wants to keep a great deal of respect for Lambert and continue to honor his legacy.
"I think we will write the textbook for great transitions," says Long.
Copyright 2018 The Lawrence Journal-World. All rights reserved. This material may not be published, broadcast, rewritten or redistributed. We strive to uphold our values for every story published.