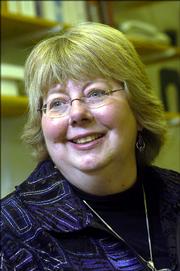 One might say Donna Johnson's career has come full circle.
Once a premed undergraduate, the small-town New Yorker's work interests have morphed through biology and chemistry, oceanography, government work and alternative fuel research on the way to beginning her own company and developing products that help medical researchers.
Johnson, who has a doctorate from the University of Connecticut, is president of Pinnacle Technologies Inc. in Lawrence. An engineering consultant business she began in her basement 11 years ago, Pinnacle Technologies has grown to nine employees, including her younger brother, David, who has a doctorate in electrical engineering.
Together the Johnsons have parlayed the company into a multimillion-dollar international research and product development entity. This month, Pinnacle Technology moves into new facilities at 27th and Oregon streets and soon will begin hiring additional employees to handle building and shipping a growing number of products, including industrial control systems, brain-wave measurement tools for researchers and control panels for flight simulators.
"I like the diversity of it," Johnson said of her work. "I think I told my brother when I brought him on, 'You'll never be bored. You do something different every day.' I like working with some incredibly talented people that know so much more than I do in certain areas and you always get to learn from them."
Starting from scratch
When the company began in 1995, Johnson was working alone.
"The first year, I was doing primarily renewable energy and writing grants," she said. Working with university research teams, she said, "We were looking at making a plastic product that was 50 percent straw. Then I started doing a lot on wind energy. So I wrote grants on setting up towers to test that for electric utilities. By the end of the first year, I had to start turning down work or hire someone to help me."
That's when she spoke to David, an electrical engineer who could add another dimension to the business, but also someone she could trust.
Donna Johnson
Donna Johnson, president of Pinnacle Technologies Inc., also is president of Lawrence Technology Assn. and is on the board of Kansas Inc., a state government-sponsored organization that provides nonpartisan economic research information to the state Legislature.
The merger "brought all the electronics side to the business," Johnson said. "We got into the biomedical side because of both of our backgrounds. Now the core (of Pinnacle's work) is on the electronic side - probably 90 percent of the business, where renewable energy is about 10 percent."
Today, Pinnacle Technology still has a subsidiary, Agri-Plastics Inc., which has developed research into recycling plastic products as well as adding straw filler to polypropylene and polyethylene production. It still has interests in wind research in Kansas and other alternative fuel research. But much of Pinnacle's work is high-tech engineering, including biomedical instrumentation.
"Pinnacle is really moving into product changes from research and development,'" Johnson said. "We'll keep doing research, but our product sales for the first quarter of 2006 will equal our sales for all of 2005."
New employees will be needed to build electronic sensors that help researchers measure brain waves in mice and rats to measure drug and behavior changes.
Their equipment is currently being used at the National Institutes of Health and at the Food and Drug Administration in diabetes research.
The development of the biomedical sensors "takes the biology and chemistry that I have and synchs it with the technology my brother has," Johnson said.
Additional products include an Ethernet and digital cable panel to control flight simulators to train Joint Strike Fighter jet pilots. Still other products include control panels to activate and shut off machinery for industrial energy savings.
Family matters
The siblings' work relationship hasn't been without adjustments. "We hadn't lived within 1,500 miles of each other since I left home at 18," Johnson chuckled. Like any siblings, she said, they still can get into heated debates.
"Basically, if we start to fight, one or the other is going to talk the other down," she laughed, adding they have learned not to do that in public. "At the same time, there's no one you trust more than a family member. You're not going to do anything to hurt the other one, and that's a tremendous advantage in business."
The siblings grew up in Hillside Lake, a small community about 20 miles from Poughkeepsie, en route to the Catskill Mountains where New York City residents once vacationed. Hillside Lake, though, was composed of IBM and Texaco researchers and their families, the Johnsons being the former. "My father worked for IBM for long time as an engineer," Johnson said.
"But we were never pushed in that direction. We were always encouraged to do well at whatever interested us. Both my brother and I spent a lot of time in science and math."
Science background
Johnson discovered marine biology and conservation studies when she was a pre-med undergrad at the University of Rhode Island. "It just so happened that Rhode Island had this incredible marine studies program," she said. "It was a wonderful lifestyle: being out on a boat, diving. So I moved out of human biology to the marine ecology side."
She continued her marine studies, obtaining her master's from Rhode Island and later her doctorate at the University of Connecticut.
"So now I'm an oceanographer living in Kansas," she said with a laugh.
But her studies led her to doing research for Congress and later to work for the Department of Energy for the National Renewable Energy Laboratory. Her government work, in turn, led her to private sector work on alternative energy sources in Colorado and later Kansas City.
"I was head of engineering and research for a small business interested in biomass energy and biodiesel energy - turning your corn stalks and wood into an oil," she explained. By then, she was ready to go out on her own.
"I'm still a small-town person at heart," Johnson said of choosing her Lawrence site. "Lawrence sort of gave me the nice mixture of both. It's a wonderful college town with such excitement and enthusiasm, and it's growing."
After enticing her brother to move here, Johnson said the two - and now David's wife and two children - convinced their widowed mother to move to Lawrence, as well. "We've got the whole family here in Lawrence," she said.
Tapped for success
As a single person, the change has provided Donna with transplanted roots to the community - roots that extend to the business world, as well. She is president of Lawrence Technology Assn. and is on the board of Kansas Inc., a state government-sponsored organization that provides nonpartisan economic research information to the state Legislature.
While East Coast friends still wonder about her Midwest conversion, Johnson said Pinnacle's location hasn't hurt getting government research contracts or interest from various universities to do research.
"Where it hurts is trying to get outside investment money," Johnson said. "Their first question is, 'Will you move to California?'" Because of the company's diverse interests and individual projects, she said she usually replies: "For that amount of money, we're not leaving."
"I've certainly heard the tirade: What's in Kansas? That's more coming from the investment community," Johnson said. "Most of them are located on the East and West Coast. If you can walk out your door and step around the corner to visit a company and see what they're doing, why should they bother investing in someplace far away?
"My answer is that Kansas has a good work force with a good work ethic," Johnson said. "People can buy a great house for a reasonable amount. If you can get them to visit, they realize that Kansas isn't all flat and there aren't cowboys and Indians running around chasing each other any more."
Copyright 2018 The Lawrence Journal-World. All rights reserved. This material may not be published, broadcast, rewritten or redistributed. We strive to uphold our values for every story published.