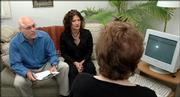 Therapists, sometimes using a computer program that displays a ball moving from left to right and back again, talk with patients about traumatic events and other painful experiences, eliciting memories, buried emotions and unhealthy core beliefs that patients have internalized about themselves.
At the same time, patients follow the ball with their eyes as it moves back and forth.
After as few as three or four 90-minute sessions of this treatment, patients often report feeling markedly more peaceful, their psychological issues moving toward resolution.
The technique appears to work for people suffering from a wide range of mental illness: Post-Traumatic Stress Disorder (PTSD), eating disorders and phobias among them.
It sounds a lot more mysterious than kicking back in a chair and talking about your problems.
But those who offer a form of alternative therapy called Eye Movement Desensitization and Reprocessing - EMDR - and those who have undergone it for emotional struggles say that it works.
"They used it initially with Vietnam vets (suffering from PTSD). We use it a lot now with sexual traumas. Now, the one thing I really like about EMDR, if anybody is really stuck in therapy, it can serve as a wonderful way to go in, try it and see if you can get unstuck, even if you're not working with a trauma," said Ed Bloch, a licensed specialist clinical social worker.
Bloch and his wife, Jena Bloch, a licensed clinical marriage family therapist, own the Life Enrichment Center, 5200 Bob Billings Parkway.
Related links
A good resource to learn about EMDR is the EMDR Institute. Visit its Web site at www.emdr.com or call (831) 761-1040. To learn more about the Life Enrichment Center or to make an appointment, call 842-2752 or visit www.lecnetwork.com.
The Blochs are both trained in EMDR therapy. They also both specialize in treating patients with eating disorders.
The Life Enrichment Center also features a number of alternative healers such as practitioners of Reiki, massage therapy and meditation training.
"The idea is to incorporate both traditional and nontraditional approaches in order to treat the whole person, giving the individual a framework that is best for him or her. We get a lot of clients who are more interested in nontraditional approaches," Ed said.
The Blochs established the Life Enrichment Center in 2001. Six practitioners are part of the center.
'Gateway to changing behavior'
EMDR has been in use for about 20 years now, and many insurance companies recognize it as a valid therapy process.
The treatment method is somewhat different than traditional, insight-oriented talk therapy, Ed explained.
"In talk therapy, we look at events from the past that may be impacting a current behavior or struggle that we may be having. From there, we try to reduce the intensity by talking about the events and come to a better understanding of how they may be impacting our life today," he said.
"The last piece would be to alter whatever faulty beliefs have come out of those experiences, and challenge the accuracy of those beliefs."
Here is where EMDR differs from that approach.
"We can take the same experience and reduce it down to one to three sessions of work, and it seems to be able to engage the client at a deeper level of their memory, almost at a gut level. Since EMDR goes right to that level, the person is experiencing the feelings as if they are happening right now, today," Ed said.
It's not exactly known why the movement of the patient's eyes from one side to the other plays an important role.
Therapists use visual and auditory cues - such as the moving ball on a computer screen, a handheld wand or even focusing on the side-to-side motion of the tip of a pencil - to create an interaction between the left brain and right brain. It seems to open a pathway into that deeper level of experience and memory.
"There are a lot of theories about it, but there's nothing that we can prove," Ed said.
Some think it mimics Rapid Eye Movement (REM) sleep, a mentally active period for the brain.
But EMDR is not hypnosis. It's a fully conscious process, and the patient is never in a state of losing control.
Ed uses EMDR to treat patients who have witnessed all kinds of traumatic events - from natural disasters to sexual abuse, as well as to help them recover from panic attacks and eating disorders.
"I have seen some pretty tremendous shifts in clients over the years, where they have been incapacitated pretty much, and it enabled them to function at a pretty high level," he said.
"It is a gateway into making change. It may not give you that immediate response, but what it does is it gets you unstuck so you can take the next step to changing behavior."
Surprised by technique's value
Jennifer Fish, 31, is one Lawrence resident who has found relief through EMDR therapy with the Blochs.
Fish, who is married and has two children, initially came to Jena Bloch seeking help in dealing with the emotional fallout from a period of seven years of sexual abuse that took place when she was younger.
After a month or two of talk therapy, Jena suggested they might try EMDR.
"I had no idea what it was, and it sounded quite scary to me. So Jena explained it and had Ed come in," Fish said.
Over the course of four weeks, Fish had four 90-minute EMDR sessions with the Blochs, and sometimes Fish's husband joined her, too.
"I was in full control, and I remember everything that happened. It's a confronting of your feelings that you didn't even know you had, because you have these emotional walls you put up from the hurt," Fish says.
"Ed used a ball going back and forth on a computer screen. It's like you're watching that old video game, 'Pong.' I would watch it, at first, and then I would start laughing."
In some sessions, through the use of stream-of-consciousness talking, Fish did relive some difficult experiences from her past. But she actually found it freeing.
"There were other times that I would just have a strong emotion, like cry or be so mad I could barely talk. There was a reliving of the past and a releasing of emotions," she says.
Jena Bloch says she's been surprised at just how valuable EMDR has been to patients like Fish.
"It's interesting, because what seems to be locked in people's nervous systems through trauma, phobias or grief, EMDR helps them move through it, unlock the nervous system and allow the brain to process the experience," she said.
So what would Jena tell skeptics of EMDR?
"I would say, we really don't know exactly why it works, but it just seems to. If you don't get anything out of it, that's the worst that can happen. There are no side effects. You really have nothing to lose."
Copyright 2018 The Lawrence Journal-World. All rights reserved. This material may not be published, broadcast, rewritten or redistributed. We strive to uphold our values for every story published.