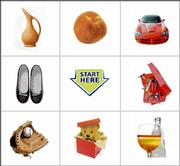 The Chamber of Commerce campaign to get Lawrence residents to shop in Lawrence will expand this spring.
The "Start Here" campaign - which used advertisements featuring community leaders and business owners exhorting readers and viewers to do their shopping at home - started in 2004.
The expanded effort will include a City Hall proclamation declaring a "Start Here" week in Lawrence, and businesses across the city will be issued decals to advertise their participation.
"The campaign itself, I think, is good," said Susan Henderson, who is heading the effort for the chamber. "This is an effort to get more business behind it, so it's not just a chamber-driven effort."
Maria Martin, the owner of Southwest & More in downtown Lawrence, has participated in the campaign since the beginning.
"I think it started to make people aware of the benefits of keeping dollars in the community," she said.
Local businesses can use the help. Between 2002 and 2005, sales tax collections in Lawrence rose from $10.79 million to $11.84 million - a rise of 9.8 percent. Statewide, sales tax collections increased by nearly twice that amount.
Over the last year, Curtis Clinkinbeard, regional director for the Kansas University Small Business Development Center, has been surveying businesses in Lawrence, Eudora, Baldwin and elsewhere in Douglas County, asking questions about wage ranges and the need for work force training programs. It also asks officials to rate the relative value of businesses' resources, from the chamber to area accountants.
The report should be available sometime this spring.
"At this point in time, we're kind of done," Clinkinbeard said, "but we're still reviewing the work with the chamber to figure out the lessons to draw from it."
Participants in the "Start Here" campaign don't have numbers to tell if their efforts have been successful. But they know they're battling retail areas in Topeka, Kansas City and Johnson County for dollars.
"I think lots of businesses feel they're not getting customers from Lawrence," Martin said. "I can speak for myself as a downtown business owner that I have a lot of customers from Lawrence, but I could be reaching more."
That's true even though downtown Lawrence is a big draw for out-of-town customers. It may not, however, draw as much business from Lawrence residents.
"There's no question that downtown is an attraction, there's no question that people come here specifically to go downtown," Henderson said. "The problem is getting our neighbors out there."
Shopping in Lawrence, Henderson and Martin said, benefits the entire community - even when shopping at chain stores. Local employees get paid, and tax dollars go to local projects.
"The tax dollars is what does it - they've paid for improvements to the parks and bicycle trails," Martin said. "A lot of this comes from people who spend their money in the community. We just think it needs to be said a little more often."
Copyright 2018 The Lawrence Journal-World. All rights reserved. This material may not be published, broadcast, rewritten or redistributed. We strive to uphold our values for every story published.