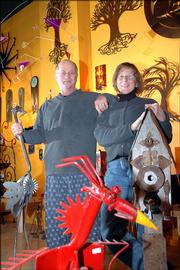 The cool thing about Kelvin and Kathryn Schartz's art gallery, It's About Time, is that there's so much to look at.
It's exceedingly difficult to just peer in the front windows, or even pop in for a moment.
The fact is, you'd better allow yourself plenty of time if you plan on going there at all.
The gallery at 816 Mass., which opened in July 2005 in the space formerly occupied by Fun & Games, features a profusion of Kelvin's distinctive artwork fashioned from cut steel, as well as many items made by 15 to 20 handpicked artists from around the country.
Everywhere you look, there is something beautiful, clever or whimsical in design to examine closer: wall clocks, eccentric birdhouses, tables, wall hangings, goofy dogs and cats, leaping frogs, colorful flowers on long stalks, mobiles, wind chimes - you name it.
"People say what we have is unique, you can't find it anywhere else," Kathryn said.
"We get a lot of comments on the gallery's decor, too. Kelvin is the one who designed the look. He picked the colors."
Spreading out
It's the perfect showcase for Kelvin's work, which he produces at his business, Celestial Ironworks, 619 N. Second St.
The couple have owned the building in North Lawrence since 2000. It used to feature a small gallery, Back to the Garden, but the Schartzes closed it in January. It didn't attract enough customers, and the couple decided to convert the space into a shipping and fabrication area for their wholesale business.
Celestial Ironworks ships Kelvin's work across the United States to people who've seen his art at shows around the country or in the couple's catalog of his work.
More
To see more of Kelvin Schartz's work, visit the Web site for his North Lawrence business, Celestial Ironworks, 619 N. Second St., at www. metalartist.com.
The downtown gallery is something that Kelvin had wanted to do for a long time.
"I had this vision in my head, you know. I guess I always had an idea of having a space down here. I just kept looking, and then the space that we got came open," he said.
"I think it turned out really nice. We get compliments every day on how nice it is, so we're proud of it."
Well-received
The gallery employs three people, while the Schartzes have eight employees at Celestial Ironworks.
Anne Hyde started work at the gallery the day it opened
"I try to handle all the buying and take care of all the custom consignment work that we do, try to directly deal with the (other) artists," she says.
"Things are great. I've been absolutely amazed at how well the gallery has been received. Because I think it's so unique, compared to what people are used to seeing in galleries. It's folk art, for the most part, and yard art, and I think it's being shown in a different way here."
Hyde confirms that the gallery is a place where people like to linger in order to appreciate all that it has to offer.
"I've worked retail quite a bit downtown, and there's a tendency for people to kind of come in and out of stores quickly. But people have a tendency to really spend time here," she said.
"I think it's a collection of work that none of us is used to seeing, and it's been made very beautiful in this space. People have said it's such a wonderful addition to downtown, which is such a great compliment for us."
Some of the gallery's most popular items are the unusual birdhouses - both decorative and functional - made by James Penquite, of Delphos, near Salina; Kelvin's Prairie Style wall clocks; and the expressive sculptures of dogs and cats, made out of recycled auto parts by a company called Yard Birds in Louisville, Ky.
Customers also are drawn to Kelvin's cut-steel mailboxes, which have a design reminiscent of architect Frank Lloyd Wright's work.
Gallery employees Missy McCoy - a well-known Lawrence muralist - and Desiree Warren are in charge of merchandising all the artwork to greatest effect.
"Missy is here a tremendous amount, moving the work around and making sure that the walls look great. She really has an eye for that, and Desiree does a fantastic job with the (gallery) windows. It's just a great team of people who really believe in the work and the artists," Hyde said.
Seeking more space
Kelvin's artwork seems to be a hit in Lawrence.
His amusing steel flowers, dogs, cats, butterflies and frogs can be seen in homes and gardens around town.
And he has done plenty of custom work for local businesses, too. He made ornamental booth dividers, wall hangings and the burnished metal screen behind the bar at Marisco's, 4821 W. Sixth St.
He also did some work for Stone Creek, 3801 W. Sixth St., formerly Stone Canyon Pizza Co.
And Unity Church of Lawrence, 900 Madeline Lane, features two big pieces of his, according to Kathryn.
Kelvin, 53, started his business in Lawrence in January 1995, after moving here from his native Great Bend.
"He started working out of his home, really, then he gradually expanded. We've been married seven-and-a-half years, and since then, he's moved his location three times, looking for a bigger space," Kathryn said.
"When we opened this place downtown, we had hoped to have a place that would have a lot more foot traffic and a lot more business (than their now-closed Back to the Garden gallery), and that's turned out to be true."
Copyright 2018 The Lawrence Journal-World. All rights reserved. This material may not be published, broadcast, rewritten or redistributed. We strive to uphold our values for every story published.