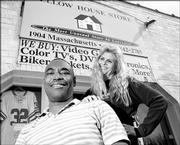 Things were turned upside down at one local business last year after police accused the store's owners of selling stolen property by running a fencing operation.
"This is so stressful, you just wouldn't believe," said Carrie Neighbors, co-owner of Yellow House store. "I don't know who to trust and who not to trust. I'm just about to give up buying and selling."
When they raided the store at 1904 Mass. in December, police said they suspected Yellow House of operating one of the largest and most sophisticated fencing operations they'd seen in Lawrence. But Carrie Neighbors and her husband, Guy, countered by saying that they'd been in business for 25 years, were a family operation and never knowingly bought items that were stolen.
Other local merchants who deal in used items say the Yellow House case hasn't had a ripple effect.
"We haven't really changed anything, and I think the procedures that we have protect us," said Chris Jones, manager at Hastings Books Music & Video, 1900 W. 23rd St., which requires people to present a photo ID when they bring in something to sell.
Licensed pawn shops such as Lawrence Pawn & Jewelry, 944 E. 23rd St., have long been required to keep detailed records of what they buy and regularly turn them over to police, owner Doug Wahl said.
"A pawn shop is the absolute worst place to take stolen merchandise," Wahl said.
Sheree Nairn, one of the owners of Freeman Used Furniture, 1145 Pa., said her business didn't stock televisions and other electronic appliances that commonly were stolen. She said that if a seller calls and has items he wants employees to come pick up at his home, employees typically wait a few days and see whether they're still available.
"We've always tried to be careful," she said.
After their store was raided by police, Yellow House's owners put up signs on the store's front door warning people not to bring in stolen items. They also put up a sign referring police to the store's attorney and saying employees were not allowed to talk to investigators.
Dist. Atty. Charles Branson said the investigation involved "tens of thousands of dollars" in questionable sales made over the counter and on the Internet. But as of early April, no formal charges have been filed.
Copyright 2018 The Lawrence Journal-World. All rights reserved. This material may not be published, broadcast, rewritten or redistributed. We strive to uphold our values for every story published.