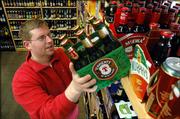 Reacting to a demand for import brews, more liquor stores are carrying exotic and hard-to-find suds, hoping to appeal to the increasingly discriminating beer drinker.
The foreign invasion has reached the shelves of Lawrence, too.
The truth is, however, it was already here.
For the past 15 years, Jeff Jensen has seen the demand for imports continue to rise.
"Being in a college-driven town, there's always a craving for new and exotic and different," said Jensen, owner of Jensen Retail Liquor, 620 W. Ninth St. "The beer market is always a strong market in a college town, but there's been a little swing in the past few years. Import beer has definitely been on the rise."
Part of it may just be exposure. Lawrence is home to many whose memories from travel abroad may stir longings for a particular brew.
"KU students definitely drive a lot of the import sales here in Lawrence. Nowadays the average KU student is pretty savvy and well-traveled," Jensen said.
The tastemakers
Jensen also believes that the proliferation of microbrews has helped import beer sales, but largely as an aftereffect.
"In the early- to mid-'90s there was quite a big craft beer explosion here. A lot of the microbrews from Oregon and Colorado really hit," Jensen said. "That really slowed down the import side as far as new products coming in."
The surge in domestic craft beers may have spilled over into the imports when the market became oversaturated, however.
"Craft beer was really driven in the early '90s, but it is not nearly at the place it was. (Microbreweries) were expanding too fast, and the market was getting flooded," Jensen said. "We're not getting quite the influx of craft beers - I think imports are picking that up."
A better beer
It's a theory that some other alcohol retailers share. Spencer Duncan, who opened World Wine and Beer in 2003, also has seen the market for imports grow, and his shop specializes in import beers, carrying more than 200 varieties from all over the planet.
"I think what has happened is that people started drinking some microbrews, then they started drinking imports," said Duncan, a KU alumnus and Topeka native. "People aren't saying that they don't like Bud or Miller. They are just realizing that the microbrews are a better beer. We'll have customers say, 'I used to be a Bud guy or a Bud girl, but once I started drinking this other beer, I can't go back.'"
But getting consumers to start drinking fancier brews isn't always easy, which is why both Jensen and Duncan offer their customer the ability to buy import beers by the bottle.
And despite imports' growing popularity, the average drinker still thirsts for the cheaper domestic beers. Jensen reports that he still sells more Miller, Pabst Blue Ribbon and Budweiser than other beers. Duncan even admits that his best-selling import, a German pilsner called Hofbrau, is akin to Bud.
"It's not real heavy. If you like Budweiser, chances are you're going to like Hofbrau. People love Red Stripe - it's the same way. It's not a thick, heavy, weird beer."
Profit challenges
Despite the higher prices and the enticing "Build Your Own Six-Pack" strategy, selling import beers has yet to be highly profitable, at least for Lawrence businesses.
"The truth is there's no money in beer. It's a volume business," Duncan said. "In wine and spirits, the margin is larger. If I sell some Johnny Walker or Crown Royal, I'll make a bigger profit."
But that may change if trends continue. Though the volume of imported beer shipped to the United States only increased by a modest 1.4 percent from 2003 to 2004, according to Beer Marketer's Insights Inc., between 1994 and 2004 the figures more than doubled, showing a 110 percent increase. When compared with total growth in beer shipments - which amounted to a mere 5.6 percent over the same 10 years - it is hard to deny that the demand for import beers has increased substantially.
But it will require a great deal of sales volume to outweigh the heavier margin that retailers glean from more lucrative alcoholic beverages.
One of the difficulties, Duncan says, is the sheer space it takes to sell beer. Wine and spirits take up less shelf space, are generally more expensive and don't require refrigeration.
Despite the risks, however, Duncan is committed to his decision to discard the industry's standard focus, even if that means having some beers gather dust on the shelves.
"We carry over 200 beers," he said. "It may not be a big mover, but if someone walks in here and wants it, we want to have it on the shelf.
"That's a safe bet for us, but it's not for everybody," Duncan said. "That may not be good business."
Copyright 2018 The Lawrence Journal-World. All rights reserved. This material may not be published, broadcast, rewritten or redistributed. We strive to uphold our values for every story published.