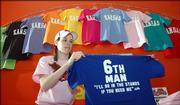 If you want a good laugh, stop and take a peek through the windows of a new store at 734 Mass.
There you'll see a profusion of colorful T-shirts bearing messages that range from sophomoric to clever to naughtily suggestive.
One item bears a silhouette of the Show Me State and the phrase "Missouri - 6 million people, five last names."
Welcome to Joe-College.com, the brainchild of Lawrence native Larry Sinks, 42.
Sinks also is the owner of Victory Sportswear, 721 E. Ninth St., which offers custom silk screening and embroidery for local customers, small colleges and auto racing teams.
Sinks owned Midwest Graphics from 1981 until 1996, when he sold that business.
Joe-College.com opened in late January in the roughly 2,000-square-foot space formerly occupied by Free State Furniture.
"It's a fun business offering products with local flavor, and it complements the one I already own," Sinks said.
Victory Sportswear is the source of several popular blue T-shirts that can be seen around town, such as "Our Football Coach is Phat," "Win Or Lose, We'll Still Booze" and one that riffs on the Kansas University men's basketball coach last name ("I Love My Self").
"We were selling them (at Victory Sportswear). Kids were picking them up, buying them wholesale and selling them at a couple dollars profit. I thought, 'Why not just open a retail store?'" Sinks said.
Joe-College.com also sells a wide range of amusing caps, hooded sweatshirts, fleece shorts, sweatpants and women's underwear. T-shirts are priced between $12.95 and $14.95.
Sinks says 80 percent of the funny concepts for T-shirts come from himself, and 20 percent are thought up by other people.
"In fact, we have a deal at the store that if you come up with an idea, you get a couple of free shirts from us," he said.
Victory Sportswear does all the design work.
"We've got a great art department here - the best," he said.
Famous faces
One T-shirt pays homage to Max Falkenstien, who retired this spring after 60 years of announcing KU basketball games on the radio.
It says "Thanks Max for the memories, 60 years," with a black-and-white photo of Falkenstien announcing a game.
Shirts that mock KU rivals such as Missouri and Kansas State University have proven a hit with customers. The store's sold many "Muck Fizzou" caps and T-shirts, for example.
"I've had to reprint my opening inventory already. So far, we've exceeded our expectations," Sinks said.
Joe-College.com also does custom work.
"One man brought in a book with a black-and-white photograph of Bob Dylan, and we transferred it (the image) to a white T-shirt," said Erin Adams, store manager.
The store employs five people - one job is full-time, the others are part-time.
The business venture also has a Web site, www.joe-college.com, where customers can order products online.
An eye for expansion
Sinks believes the store has growth potential.
"The reason it has 'college' in the name is that, if this goes well, we're looking at having stores in other college towns," he said.
"My hope is that it becomes the most popular store in Lawrence. It's got great buzz, and that's the thing that's most encouraging."
Adams, 25, says that the store has enjoyed steady foot traffic, with passers-by stopping to look in the window.
"People are saying, 'Cute stuff,' and asking about custom orders," she said.
Her personal favorites among the store's merchandise are T-shirts that make fun of Missouri, as well as a St. Patrick's Day-themed green shirt that says "Stop Staring at My Shamrocks."
Sinks is optimistic the business will be a success.
"It's never easy, but I've got a lot of confidence in what we're doing. We're a company that's going to really watch out for current events (as a source for new T-shirt concepts). I think I have a clever mind for that, and we have a clever team down here. If something interesting happens, the whole town will have a chance to have fun with the shirts," he said.
But it's not just young people who are enjoying the sense of humor evident at Joe-College.com.
"We had a man in his late 50s or early 60s walk in and literally hit his knees laughing at the one that says, 'What Happens in Missouri Stays in Missouri,'" Sinks said.
Copyright 2018 The Lawrence Journal-World. All rights reserved. This material may not be published, broadcast, rewritten or redistributed. We strive to uphold our values for every story published.