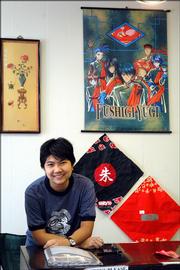 Behind the elaborate, ever-watchful modeled sentinels that guard the storefront, amidst the figurines of robotic warriors and voluptuous schoolgirls, awaits a world of fantastic imagination and obscurity. Few who pass by Charismo, Lawrence's premier anime and enthusiast collectibles shop, understand the products inside or the exploding market they are a part of. But the anime business is anything but imaginary.
"Anime is a billion-dollar business in Japan, and the growth rate is really fast here," said Jan Presley, owner of Charismo, 839 Mass. "Every weekend, throughout the year, you can find a convention here, anywhere you want to go around the country."
But Presley admits many of the people drawn inside by the enigmatic and lifelike statues still did not understand the growing world of Japanese animation.
"Some of them don't even know what anime is, and we kind of have to explain it to them. There are some parents that think anime is bad because they've mistaken it with some other type of animation - like adult-type cartoons. But anime is not just for adults. I've been around with this type of stuff since I was young - we read manga all the time."
Though manga, the graphic novel medium from which Japanimation or "anime" was created, does have a younger fan base, the true market for enthusiasts is in the 18- to 30-year-old age range, Presley says. A true fanatic can spend hundreds of dollars a month on DVDs alone, which says nothing for the more elite paraphernalia.
"We do have collectibles, and some of them are really pricey collectibles. We have prices from like $5 to $500, so it's a big range of items and prices," said Presley, whose family moved to the U.S. from Thailand when she was 13.
The most expensive items in the shop are molded figurines, often handmade in limited quantities. They are items only for the most dedicated enthusiast. One of the most elaborate stands boldly in the storefront window.
"She's called Grace. She's not part of anime, but we just like her. She's actually part of the Marvel comics," Presley said. "This one here is like $600.
"It has to be a serious collector," Presley said. "Like the Unleashed action figures, for a figure it's like $100. Who would want to buy that for their kids? It has to be someone who is already working and is a serious collector to do that."
Niche market
Though few people know someone with the resources and motivation to buy such an item - or the patience to leave the toys in their all-important packaging - the market for rare, niche collectibles has a long history in the U.S., one that Presley uses to broaden the appeal of the shop. She also carries hard-to-find "Star Wars" items. A 5-inch figurine has been the most expensive sale to date.
"The 'Star Wars' action figure we sold - it was the Boba Fett - the single item was like $180 to $190," Presley said. "I don't think we have sold any of the statues yet. They will just kind of sit there, but we're hoping that someday some people will know that it is out of the market."
In the meantime, Presley keeps the shop alive by selling the various accoutrements of the pastime. Anime fans have a seemingly endless desire to buy decorations, pins and key chains, which are compatible with the budgets of younger collectors. The shop also sells Japanese tea and sake sets and even some traditionally Asian-style clothing, and though it may seem unlikely that fans would pay to fully immerse themselves in the anime world, there are those who go to great lengths to live the life.
Brian Smith, the president of the KU Anime Club and anime fanatic, knows all about it.
"Cosplay is really big in anime fandom. It's where you dress up as an anime character. People can do extremely elaborate costumes," he said.
But to emulate the elaborate fantasy garments that were rendered from an artist's imagination, it takes some ingenuity on the part of the fan. You can't usually find what you're looking for in a store.
"You have to make (the costume) yourself. Usually with Cosplay you're really adept in sewing or know someone who is," said Smith, a graduate student studying Japanese literature.
Addictive anime
Smith has some theories about why anime fans get so hooked.
"American cartoons are very episodic," he said. "Very start-to-end, one-episode, nothing changes - look at 'SpongeBob,' nothing changes. But with 'InuYasha' you get 166 episodes, I think, and each episode grows. They go through something different; they have 'To Be Continueds.'"
So many episodes may make for an enthralling story, but also an addictive investment. DVDs alone can add up quickly. Smith guesses that for most anime fans, it's just part of the budget.
"Usually in a month they'll buy at least one or two DVDs," he said. "Stuff at Charismo is like 20 bucks; you've got to get key chains, wall scrolls, whatever you don't have, whatever they import from Japan. I would say at least $50 to $70 a month."
And that's just the average. For a die-hard fan, the figures are astronomical.
"I get five DVDs a week," Smith said. "I've got over 1,000 in my collection, pure anime. It's very expensive."
With customers like Smith, Charismo's prospect for staying in business is out of the fantasy world and into the fiscal.
Copyright 2018 The Lawrence Journal-World. All rights reserved. This material may not be published, broadcast, rewritten or redistributed. We strive to uphold our values for every story published.