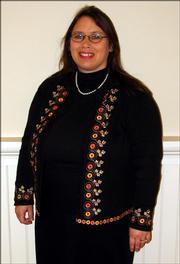 Endocrinologist Charyse Sindler regularly advises her diabetic patients about lifestyle changes. In the seven years she has been a Kansan, the Miami-trained physician has faced several of her own - mostly, she says, for the better.
"Kansas was such a contrast for us," Sindler recalled of the move she and her husband made from Dallas to Lawrence. "It was so laid-back, and the people were so down-to-earth."
After years of moving from one large city to the next as she finished her coursework, residency and fellowship training, and began her own practice, Sindler said coming to northeast Kansas has been a relaxing change.
"This is the first time we've got jobs in the same place that we both like," Sindler said.
Sindler works for Cotton O'Neil Clinic's Diabetes and Endocrinologist Center. Her husband, Harold Herman, is an attorney for Payless Shoesource.
"We had lived in Dallas for two years," she said. "The traffic there was terrible, and the commute was longer."
Now she and her husband commute to Topeka together most days. "It's really nice," Sindler said. "We have 30 minutes of uninterrupted time together each way with no telephones or anything."
But the number of carpooling days is dwindling as Sindler spends two afternoons each week treating patients in Lawrence.
"There's a lot of diabetes here - nationwide, too,'' Sindler said.
While Sindler once treated patients two afternoons a month in Lawrence, she added patients to her caseload in January, after the city's only full-time endocrinologist, Dr. Richard Fairchild, closed his practice.
"I was coming to Lawrence every other Tuesday and then every Tuesday and then every Wednesday," Sindler explained. "I was going to do it even more often, but there have been some staffing issues and coordinating with other people's space needs and schedules. I have been borrowing space (from other physicians) and using their nursing staff."
As she worked out details, still other patients joined her caseload as diagnoses continued. Many patients began driving to Topeka to see her.
"I take a lot of time in the beginning when I see them, so it takes awhile,'' Sindler explained. "So some of them were coming to me in Topeka to avoid the delay."
Diabetes as a growing problem
Sindler also treats patients with thyroid problems and other endocrine maladies, but she said much of her work remains with diabetics - both young and old.
"Unfortunately, there are a lot of kids with Type 2 diabetes now," Sindler said, noting American youngsters' growing fast-food diets and general decline of regular physical activity.
Upward of 17 million Americans, or some 7 percent of the population, have diabetes.
Juvenile diabetes, or Type 1 diabetes, occurs when the body makes little or no insulin. Type 1 diabetics require regular doses of insulin to help the body process and use food energy. Type 1 is by far the rarer form, accounting for fewer than one in 10 diabetics and usually does not begin after age 30. Type 2 diabetes, in contrast, occurs when the body's ability to make or use insulin is impaired. Once considered an "adult onset" illness largely affecting adults over 60, Type 2 diabetes is the fastest-growing form. The age of onset has steadily decreased in recent years with serious warnings made to those over 40, but many cases are showing up in children and young adults. More than nine out of 10 diabetics have Type 2 diabetes.
Sindler said one reason the rate of Type 2 diabetes is climbing is that the threshold for diagnosis and treatment has been lowered in recent years. "The criteria for officially diagnosing diabetes has changed," Sindler said.
"When I came into the field (in the early 1990s), a fasting blood sugar (level to determine diabetes) was 140 (milligrams). Now it's 126."
While people with a fasting blood sugar level of 126 always had been considered to have high levels, they were considered borderline cases for treatment, she said.
"They always were diabetics," Sindler said. "But we were not being as aggressive in treating it."
Since then, she said, physicians have become more pro-active with diabetes, realizing earlier diagnosis and treatment with diet and exercise can control a significant amount of diabetes and its related health problems.
"There are so many new options in diabetes care," Sindler said. "More diabetics are sent to endocrinologists (rather than being treated by a general practitioner). There are a lot a different medicines and different types within each class" to warrant a specialist's involvement, she said.
"I'm very aggressive about getting control" of blood sugar levels, Sindler said. ''The stakes are kind of high with diabetics."
Still, her first advice to new patients is to see their general practitioner.
"The first thing they have to consider is that all diabetics are at risk for heart disease," Sindler said. "They need to see their primary care physician for a complete physical to see if it's safe for them to do exercises. I recommend 30 minutes of exercise seven days a week. Then you have to consider calorie restrictions: It's not only what you eat, but how much you eat.
"Diet and exercise are the first thing," Sindler said. "Then closely monitoring your blood sugar levels. Your fasting blood sugar should be close to 100 and two hour post-meal under 140."
The road to Lawrence
Sindler prefers walking as her primary form of exercise, but as a resident at Baylor College of Medicine in the Texas Medical Center in Houston, working 72 hours on and 12 off, her exercise often came as ice skating at the nearby Galleria shopping mall. "I love ice skating," she said. She met her husband in Houston where he was studying law at the University of Houston.
Only a few months later, she returned to her native Washington, D.C., area for a fellowship in the Heart, Lung and Blood Institute and the National Institute of Diabetes, Digestive and Kidney Diseases at the National Institutes of Health.
She spent a year practicing in Massachusetts before moving to Dallas to work at Baylor Medical Center.
"My husband would follow me, and then I would follow him" as the two were sought after in their respective careers.
She said she initially had been pursued by an endocrinologist head-hunter in Kansas City for a job she didn't really want but was having a hard time turning down "because he was so nice" when her husband was approached by Payless.
On his way to the interview, Sindler said Herman became lost and pulled over to look at a map. A man approached his car, offered help and gave him directions. The man turned out to be then-president of Payless, she said.
"He came back to Dallas so impressed with Kansas," Sindler recalled, that she began looking for a job in earnest.
With family still in Miami, Sindler said it is often difficult to see them regularly. And, she said, "I do miss the academics. I trained at a very academic center, and I do miss research and the teaching aspect of it. When I first came to Topeka, they did have a residency program, which I enjoyed."
Still, she said, a lot of her family and friends find it hard to believe she could be happy in the Midwest.
"When my sister tells people I live in Kansas, they just ask, 'Why?' But if everyone knew what Kansas was like, then the whole reason we like it would change," Sindler said.
Copyright 2018 The Lawrence Journal-World. All rights reserved. This material may not be published, broadcast, rewritten or redistributed. We strive to uphold our values for every story published.