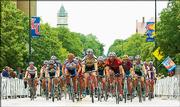 A three-day national bicycle championship event, which draws thousands of spectators and cyclists, plans to return to Lawrence in May.
This time, steps have been taken to alleviate business owners' concerns about closing certain downtown streets during part of the National Collegiate Cycling Assn. Championships, which will run the weekend of May 12-14.
Last year the downtown race took place on a Friday. This time it will be on Sunday morning, a time when most businesses are closed. Those that are open - a few restaurants and coffee shops - are establishments that racers and fans are likely to patronize anyway, said Bob Sanner, director of conventions and sports for the Lawrence Convention & Visitors Bureau.
"We surveyed the downtown area asking for their input on whether they would like the event to be on Friday or Sunday, and the vast majority opted for the Sunday event," Sanner said. "That's fine, because we want the downtown to be a willing partner in this."
Copyright 2018 The Lawrence Journal-World. All rights reserved. This material may not be published, broadcast, rewritten or redistributed. We strive to uphold our values for every story published.