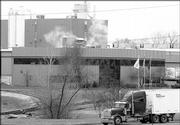 The largest tax break ever granted by Lawrence city commissioners won't bring a new company to town or fuel a hot new technology.
But it will bolster a longtime industrial powerhouse, allowing Berry Plastics Corp. to update equipment and processes at its Packerware plant in Lawrence, giving it the best chance to endure for decades to come.
"Berry wants to invest tens of millions of dollars in our community over a very short period of time and take this plant to higher levels of efficiency and competitiveness in the market," said Lavern Squier, president of the Lawrence Chamber of Commerce. "That is a tremendous gain for the community - the city, the county and the region. :
"We're just appreciative that they're willing to make that kind of investment in the community."
Squier's comments came in December, as Berry announced that it had plans for spending $118 million by 2010 on new buildings and equipment at the Lawrence plant.
To help secure the anticipated investment, commissioners approved an abatement that will forgive 90 percent of the taxes the company would owe on the project during the next decade.
Berry already has 450 employees making drink cups, kitchenware, garden tools and other products at Packerware, a 470,000-square-foot manufacturing complex at 2330 Packer Road north of the Kansas Turnpike. The plant opened 38 years ago with assistance from the first tax abatement granted by the city.
With the latest round of construction and equipment, Berry promises 154 new jobs: 78 within the first three years, plus another 76 in the following two.
Plans call for the new jobs to range from equipment operators to department heads, with hourly wages stretching from $10.50 to $35. Berry expects the new jobs to carry an average wage of $13.21 in year three and $13.19 in year five, with total annual payroll created by the project to be $2.14 million in year three and $4.23 million in year five.
Such investments might have gone elsewhere, supporters say, had commissioners not approved the tax break. But critics remained skeptical.
"I think the firm has a substantial investment here that they're not going to walk away from," said Commissioner Mike Rundle, in casting the lone vote against granting the tax break. "My position on abatements has been consistent: They should be rare and fair."
Not all abatements pay off.
Before Berry's application, the most recent tax break granted by the city went to Serologicals Corp., an Atlanta-based biosciences operator. Serologicals had secured a 10-year property-tax abatement in connection with a new $28 million manufacturing plant built in the East Hills Business Park.
The company did build the plant, but in January, Serologicals announced that the operation would never move into full production - at least not under the Serologicals name or that of one of its divisions, Celliance.
Instead, Serologicals officially shut down the idled plant and announced plans to sell the property. The place never employed the 47 scientists and other high-wage personnel that had been promised, nor did it ever produce enough cell-culture supplements to generate $60 million in annual sales, as had been projected.
Serologicals officials never did enact the tax abatement.
Copyright 2018 The Lawrence Journal-World. All rights reserved. This material may not be published, broadcast, rewritten or redistributed. We strive to uphold our values for every story published.