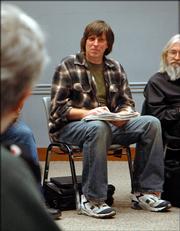 Steve Ozark is running a little late. He bustles through the door, quickly finishing a phone call while papers cradled in his arms are about to fall to the floor.
Valentine's Day marks the 13th meeting of the Lawrence Community InterFaith Initiative. As members anticipate the arrival of their leader, they understand his tardiness: Ozark is a busy guy.
Founder of the InterFaith Initiative, assisting minister at Trinity Lutheran Church, member of a band, talent agent, father and husband, Ozark's agenda is full, but his heart is always open.
"I'll sleep when I am dead," says Ozark, who's become a proactive member of the community.
Playing in rock bands brought him to Lawrence, but it was the beginning of a family, starting a business and fondness for this college town that kept him here.
"Once I had built up security, that's when I think I started reaching out to say, 'What else can I do?'" Ozark says.
So Ozark began serving his church, then the community and eventually for the Coalition on Homeless Concerns. During his two-and-a-half years on the coalition, he saw gaps that kept the task force from better serving the homeless. It was then he developed the idea for the InterFaith Initiative.
"As we addressed gaps, the best fix I could see a lot of times was volunteers, but volunteers you could count on," Ozark says.
His involvement with Trinity Lutheran Church sparked the concept of uniting faiths to better serve the homeless and other needs. Ozark saw an opportunity to bring together faith organizations to provide volunteers, while area service providers could offer the service.
"Everybody I talk to, when they start talking about what they're doing to help reach out and meet needs in the community, everyone gets that similar glow to them," he says. "It's about giving and fulfilling something that you feel called to do. You know ... it's what grandma taught us to do."
Today nearly 45 out of more than 100 faith organizations in Lawrence are involved with the initiative. Whimsically, core members of the group call it a faith tank.
"He enjoys being involved with all the different faith communities. It has been a calling for Steve," says Julia Ozark, his wife.
Julia has seen Steve's involvement increase over the years, whether it was with church, community or family.
"He just keeps going, and I just let him go," she says. "All aspects of his life, he does with heart and soul."
The initiative is about relationships, or as Ozark would say, "walking with someone." Forming solid connections with services that also see the need allows the initiative to act as a gateway to faith organizations wanting to serve; as a result, everybody wins.
One such relationship is with Loring Henderson, executive director of the Lawrence Community Shelter.
"(Ozark) is a constructive guy. He doesn't just talk; he's action-oriented," Henderson says.
Henderson knows Ozark well from serving on the coalition. They also worked together in 2005 when the initiative had a Day of Action with the community shelter. On a smaller scale, Ozark often distributes fliers from the shelter to members of the initiative, spreading a message.
"The community owes him a lot of thanks because he works to give the homeless a voice," Henderson says.
What's ahead
Ozark believes successful projects will make the initiative grow, attracting more organizations and tackling more needs.
Current projects for the initiative include an ongoing effort with the Turn it On weatherization program. More than 150 kits, complete with materials for reconnecting power and winterizing homes, have been distributed to help low-income residents fighting the cold this past winter.
The initiative would also like to see more of a faith response for emergency situations, such as the Boardwalk Apartment fire in October. In addition, the group is gearing up for project Restaurant Food Distribution. Working with the Lawrence Interdenominational Nutrition Kitchen and area restaurants, the group hopes to distribute excess food from restaurants to those in need.
"We're really doing something that to me lifts up my heart and makes me feel like, 'Gosh, this is the coolest thing I did today,'" Ozark says.
Copyright 2018 The Lawrence Journal-World. All rights reserved. This material may not be published, broadcast, rewritten or redistributed. We strive to uphold our values for every story published.