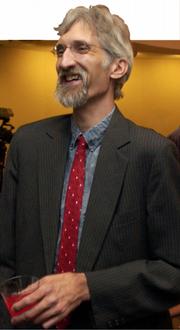 In March, city commissioners agreed to sign onto both the U.S. Mayors' Climate Protection Agreement and the Sierra Club's Cool Cities Program. Both programs involve cities taking efforts to fight global warming and basically agreeing to voluntarily follow the provisions of the Kyoto Protocol, which the U.S. has not agreed to be a part of. About 195 cities have agreed to be a part of the program. Below, City Commissioner Boog Highberger, who was mayor at the time the agreements were signed, explains the programs.
Q: What does it really mean for Lawrence to be a part of the Cool Cities Program and the U.S. Mayors' Climate Protection Agreement?
Highberger: It means that we agree to do a survey of what our carbon emissions were as of 1990. We agree to reduce those as far as city operations go by 7 percent by 2012. I think we have done a substantial amount of that already. Anything we do to reduce energy consumption will reduce our carbon emissions. We have already taken a lot of steps. I think we'll identify some additional things that we can do that won't only reduce our carbon emissions but save us money over the long term. If we can find a more energy-efficient system, like an AC system for one of our buildings, that will cost a little more but reduce our energy consumption by 30 or 40 percent. That is something that could pay for itself in a pretty short period of time.
Q: How good of a job do you think Lawrence currently is doing in its part to fight global warming?
Highberger: With the Mayors' Climate Agreement we're just committing the city organization itself, and I think the city is doing pretty well. I think staff has taken energy conservation as a priority over the years. Even before this agreement was discussed, public works staff was in the process of changing out the bulbs in our traffic signals to LEDs, which can save a pretty substantial amount of electricity.
Q: What more do you think we can do?
Highberger: We can look at maybe increased use of hybrid or alternative fuel vehicles. I'm sure we can make some of our buildings more energy-efficient. Planting trees helps, and we've already done a lot of that. We can get credit for that.
Q: What about hybrid vehicles or cars powered by alternative fuels? I'm sure you are asked occasionally why the city doesn't use more of them. What do you tell people?
Highberger: We're doing a cost-benefit analysis. Just because we want more fuel-efficient vehicles and want to achieve emission reductions doesn't mean every proposal is going to be cost-effective, and we have to take every one on a case-by-case basis.
Q: How much will it cost the city to join these programs?
Highberger: It is too early to tell. I think we're going to be able to get a substantial amount of technical assistance from a group called ICLEI (International Council for Local Environmental Initiatives). I don't have a dollar figure for you, though.
Q: Will this create new requirements that citizens will have to follow, or is this just designed to be a way for city government to change its practices and set an example that citizens hopefully will follow?
Highberger: It is the latter. Through this process we won't be directly imposing new requirements on anyone else. We're already in the process of adopting a new energy code for housing construction. That would be part of the equation. But we're not mandating compliance (with the agreement) within the city limits.
Q: Do you hope this program will put pressure on the U.S. government to sign the Kyoto Protocol?
Highberger: I would hope that we would be responsible on a national level. If this helps lead to that, it would be great.
Q: What do you think of some of the arguments that global warming is just a myth, and that it is not supported by science?
Highberger: I don't think global warming is quite as well proven as evolution, but something is happening to our climate, and I guess even if it surprisingly turns out that human activity isn't causing global warming, there's not a real downside to reducing our carbon emissions as far as I see it. A lot of these things that we would do to meet these goals under this agreement are good ideas to do anyway. They would save us money, or something like having trees along boulevards have benefits other than their carbon outtake.
Q: What's next for this idea?
Highberger: We'll get a report back from staff about what we need to do to complete the emission survey.
Q: How pleased did it make you that you were able to sign this agreement during your term as mayor?
Highberger: It is great. I think Lawrence should be an environmental leader. I think that this is one step in this direction.
Copyright 2018 The Lawrence Journal-World. All rights reserved. This material may not be published, broadcast, rewritten or redistributed. We strive to uphold our values for every story published.