Katmandu, Nepal — A visibly uncomfortable king of Nepal promised Friday to bring democracy back to this Himalayan nation, trying to end a bloody political crisis that has engulfed the country. His efforts, though, met only with an opposition pledge of more demonstrations.
With well more than 100,000 protesters filling the streets and a top envoy warning the government could be nearing collapse, King Gyanendra's promises showed little sign of mollifying the political opposition - or a public desperate for change 14 months after he seized power.
The king, though, insisted in his speech he was acting on behalf of the nation his family has ruled since the 18th century.
His dynasty, he said, has an "unflinching commitment toward constitutional monarchy and multiparty democracy," and he called on the seven main opposition political parties to quickly name a prime minister.
"Executive power : shall, from this day, be returned to the people," he said in the announcement broadcast on state television and radio.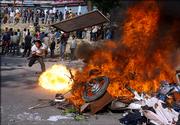 Gyanendra, never an electric public speaker, looked particularly uncomfortable during Friday's speech, frozen rigidly in front of a cloth backdrop and staring directly into the camera as he spoke.
His glumness is unsurprising. In a country where kings were revered as godlike just a few years ago, Gyanendra is deeply unpopular and has lost control of much of the rural areas to a Maoist insurgency that has left nearly 13,000 people dead as it tries to create a communist Nepal.
Observers fear the country could, at its worst, descend into chaos, creating a power vacuum into which the Maoists, with their long history of violence, could step in.
Late Friday, the U.S. State Department urged the king to follow up his promise to restore democracy to the country of 27 million people.
Opposition leaders saw little in the speech to resolve the crisis, which began when the king seized power in February 2005.
Copyright 2018 The Associated Press. All rights reserved. This material may not be published, broadcast, rewritten or redistributed. We strive to uphold our values for every story published.