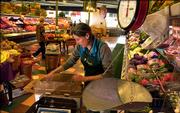 A host of local businesses are doing their part to reduce their impact on the environment, and some are even working toward larger global change. From fuel cells to packing peanuts, these companies take different approaches to helping the planet, but their motives are the same: being green is just good business.
For some, environmental responsibility is a legacy. Jeanie Wells, general manager of the Community Mercantile Co-op., carries on a tradition of conscientiousness and innovation that began more than 30 years ago.
"Some of the decisions were made a long time ago with our founding members. Since it's a community-owned organization, we currently have about 3,000 local owners," Wells says. "It's been rooted in our history and our structure. Our mission statement is to run an environmentally sound operation and to improve the community with environmental awareness."
Backing the mission of the Merc is a slate of policies that guide the store's practices. Some of them are basic adherence to the "Three R's:" reduce, reuse and recycle.
"I ensure that for every department throughout the course of the day, everything that can be recycled, is recycled," Wells says. "It's ingrained in our operations."
"Everything" is no exaggeration; the store, 901 Iowa, has even created strategies for those things that cannot be recycled. If the Merc staff can't use something, they try to find someone who can.
"Anything shipped in packing peanuts or packing materials, we save all those," says Wells, who has been at the Merc for 10 years. "There are other local companies that do a lot of mailing out all over the country, and they count on us so that way they're not having to duplicate all those materials.
"It probably is easier just to throw out the packing peanuts. I suppose it is an extra challenge and requires the whole staff really buying into it," she says. "But I think that the staff at every level here is really happy to do it."
It's no surprise that the Merc has received awards for its pervasive commitment. Last year, the store was awarded the Imagination and Place Award for a local green-friendly business, and it also has merited attention - and awards - from the Environmental Protection Agency and Energy Star, a government-backed energy-efficiency program. But for Wells, the recognition isn't the primary motivation; the true satisfaction lies in fulfilling the ideal.
"The benefits, I think, have to do with really feeling like we are living the values of the owners. It's not just making more money, it's making more money so we can take on more environmental projects," she says. "We strive to make that profit so we can do these other things. There's a lot of pride being able to do that 30 years after our founding members thought, 'Hey, wouldn't that be cool.'"
"Proto-Mart"
The creative spirit has touched other businesses in Lawrence as well, and sometimes shows up in unlikely places. The Lawrence Wal-Mart was built as the first of its kind in the world, incorporating innovations and techniques that the massive corporation was considering for widespread use.
"This was their first environmental store," says Ruth Becker, the community involvement coordinator and green team leader for the Lawrence Wal-Mart. "They built this store to test environmental technologies. There are a lot of things they built into this store that have been built not only into Wal-Mart's culture but into nationwide culture as well."
One of the most utilized components of the Wal-Mart in Lawrence is the adjacent recycling center, which recently underwent a complete reconstruction - part of the expansion of the entire site. Becker doesn't think that patrons will notice too dramatic a change, however.
"The biggest difference is that it's larger. We still accept the same amount of stuff," she says. "It's the same system in a bigger space with a bigger loading space. Pretty much across the board we've expanded."
Wal-Mart's commitment to the environment began largely as a response to customer surveys, Becker recalls.
"They don't view it as a PR situation. Going back 15 years, maybe a little longer, Wal-Mart does surveys of their customers," she says. "It used to be the environment was always one of the top three (concerns)."
Becker says the steady tide of recyclers still show up to the new facility, but it's not back to full capacity yet.
"I think it will pick up," she says. "I think we've still not seen as many people as in the past, but we're busy. It's a constant busy."
Partially hydrogenated alternative
Though operations like The Mercantile and Wal-Mart have the resources to provide public services that cater to many, there are other Lawrence companies that support environmental stewardship in different ways.
TVN Systems Inc. is one such company. It produces what are called "Proton Exchange Membrane" energy cells - a chemical apparatus that converts hydrogen gas into electricity and water - here in Lawrence. They are as high-tech as they sound.
Though at present, the applications of these clean-burning fuel cells are reserved for the specialized niches that can afford them, TVN is poised for the dawn of fuel cell proliferation.
"I think in the next 10 years you're going to see the P.E.M. fuel cells more integrated into consumer devices," says Jeff Danley, vice president of TVN. "Just now we are seeing advancements in the technology that is making it viable to power something like an automobile."
If fuel cells become more widespread, it could mean that the amount of emissions from fossil fuels decrease significantly. One of the other advantages fuel cells boast is that they can be made many sizes, and because the only byproduct is water, they are well-suited to home use.
"We have fuel cells we've adapted that could easily be used for cell phones or camcorders," Danley says.
But the technology is far from the average living room. Danley says TVN Systems and the rest of the fuel cell market is waiting for the infrastructure to be in place for civilian consumption.
"(Currently) it's more of a business application. Hydrogen is not something you could walk down the street and acquire, and typically you don't have any way to store the hydrogen," he says. "With a laptop powered by a fuel cell or a camcorder or even a cell phone, there needs to be a way to refuel that. It's more than getting the fuel cells into the devices. Getting the infrastructure in place so that customers have a means of recharging the fuel cells, I think that's going to be the biggest hurdle to overcome."
Copyright 2018 The Lawrence Journal-World. All rights reserved. This material may not be published, broadcast, rewritten or redistributed. We strive to uphold our values for every story published.