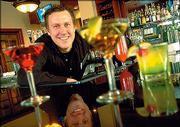 The best bartender in Kansas can be found pouring drinks at Seventh and Massachusetts streets.
That's according to two Kansas liquor-industry groups, who in late January awarded the title of "Kansas Best Bartender" to Patrick Mushrush, 36, of the Eldridge Hotel, 701 Mass.
Mushrush, pictured above, was named the top bartender in Lawrence at a competition in September. Then, at the statewide finals on Jan. 31 at Johnny's Tavern, 401 N. Second St., he beat out three other bartenders who had won local competitions in Manhattan, Johnson County and Wichita.
The bartenders had to take a written test, mix two randomly chosen drinks without a recipe and make an original creation for the judges to taste. They were scored on factors including the quality of their drinks and how well they interacted with the judges.
The contests were sponsored by the Kansas Licensed Beverage Assn., a trade group, and Kansas Beverage News, a trade magazine.
Copyright 2017 The Lawrence Journal-World. All rights reserved. This material may not be published, broadcast, rewritten or redistributed. We strive to uphold our values for every story published.