Welcome to the postseason, LeBron. And welcome back, Kobe.
Sure, the Pistons and Spurs made for a great NBA Finals last year, and they would surely do it again if both get back, as expected, this time.
But for the playoffs to really be special, they need the league's superstars to have their time in the spotlight. And make no mistake: LeBron James and Kobe Bryant are the biggest the NBA has to offer right now.
Both were sitting at home this time last year, and a couch or golf course is no place to cement an NBA legacy. That can only be done in a packed arena in May and June.
"That's a road you have to follow if you want to be considered among the great ones because it demonstrates that you're either making the players around you better or management is putting better players around you in order to showcase your talent longer into the playoffs," commissioner David Stern said last week.
James thought he was headed there last year before a late-season collapse left the Cleveland Cavaliers at home. Now in his third year, he's ready to make up for lost time.
"I don't put timelines on anything," James said following practice Thursday. "It's unfortunate I didn't make it the last two years, but I'm here now."
Not surprisingly, James and Bryant get the prime TV slots this weekend. The Cavaliers open their first postseason since 1998 on Saturday afternoon against the Washington Wizards, and the Lakers got the 2:30 p.m. Sunday spot for both their opener at Phoenix and Game 4 back at Staples Center next weekend.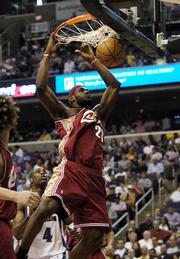 In the other best-of-seven series that open Saturday, defending champion San Antonio hosts Sacramento, Chicago visits Miami, and the Los Angeles Clippers host the Denver Nuggets. Also Sunday, New Jersey hosts Indiana, Milwaukee heads to Detroit, and Memphis visits Dallas.
That last one has caused plenty of debate. The Mavericks (60-22) had the West's second-best record, but they fell to the No. 4 seed because they are in the same division as the Spurs (63-19). So Dallas is forced play the Grizzlies, who went 49-33.
Then again, they may not have wanted to play the No. 7 seed anyway. That's where Bryant lurks - and he scored 62 points in a game against the Mavs this season.
Neither James nor Bryant is expected to go far, but count them out at your own risk. Bryant averaged 42.5 points against Phoenix, and James finished a sensational regular season with averages of 31.4 points, 7.0 rebounds and 6.6 assists.
For those who prefer teams to individual stars, there's plenty of good ones, too. Detroit, San Antonio, Dallas and Miami have had title hopes all season, and how about this - the Staples Center fans will see the Clippers twice before they see Bryant.
The Clippers are back in the playoffs for the first time since 1997 as the No. 6 seed in the West. And with a better record than third-seeded Denver, Los Angeles has home-court advantage against the Northwest Division champions.
How about a Clippers-Lakers second-round matchup?
The Pistons shouldn't have any trouble with the Bucks (40-42), the only sub-.500 team in the field. San Antonio figures to have the tougher first-round opponent, facing a Sacramento team that went 26-14 after acquiring Ron Artest.
"We've had people's attention (for a while)," Artest said Tuesday. "I think people are going to come after us like we're the No. 1 seed, like we're favorites."
Washington might think it's a favorite after winning three of its four games against Cleveland. But now the Wizards will have to get by an even more focused James, who knows playoff success is the next step to becoming one of the greats.
"I think he's going be exciting," Cavs forward Drew Gooden said, "and he'll pick up his play - if that's possible the way he's been playing."
Copyright 2018 The Associated Press. All rights reserved. This material may not be published, broadcast, rewritten or redistributed. We strive to uphold our values for every story published.