Cindy Price - mother of Free State High baseball player Robby Price - didn't show up with cupcakes for the baseball squad Thursday because the team had just claimed another run-rule victory.
She brought the baked goods for Robby's 18th birthday.
After a 12-2 run-rule victory in six innings over Shawnee Mission West, there were plenty of reasons for a celebration.
Price had almost escaped without telling his teammates about his big day, but the cupcakes forced him to come clean.
Price was a little rocky on the mound, giving up two runs on five hits in 22â3 innings, but he had quite a party at the plate.
Price was 2-for-2 with two RBIs and two runs scored - despite feeling under the weather.
"He can hit on his death bed. He's just a special player," FSHS coach Mike Hill said. "To be honest, it's fun to kind of stand in the third-base box and watch him play. It's been that way for four years."
Price was good at the plate, but Travis Ice was even better. He went 2-for-3 with five RBIs.
Photo Gallery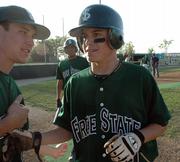 Free State baseball vs. Shawnee Mission West
"You just love kids like him, because everything he's got has been on sheer effort," Hill said. "Travis isn't the most talented guy in the world, but he is the consummate baseball player. And I'm just tickled for the success he's had."
Travis Blankenship was perfect over his 31â3 innings of relief work. Blankenship picked up three strikeouts and the win.
"We feel that we've got several options, and we just don't have to hang it on one guy," Hill said about the team's pitching situation. "As good as Robby's been, if he's not feeling well or things aren't as good they usually are, then you get somebody else you can go to. And we had a big guy - Scott Heitshusen - that we didn't even get into the ballgame today."
But putting up a combined 47 runs over the last two games always makes it easier for a pitcher.
"The hitters are working hard for us when we're pitching, so we try to work hard for them to get them back in there and let them do their job," Blankenship said.
Eight of the Firebirds' 12 runs scored came with two outs.
"One through nine right now, we're swinging it pretty good," Price said. "I think we can swing it just about as good as anybody in the state."
Brett Lisher and Lorenzo Ricketts each drove in two runs.
The Firebirds will look to continue their run-ruling ways when they entertain Olathe South on Tuesday.
Copyright 2018 The Lawrence Journal-World. All rights reserved. This material may not be published, broadcast, rewritten or redistributed. We strive to uphold our values for every story published.