Time has flown by for the seniors in Lawrence High School's choral program. Thursday evening began the home stretch of their final three performances of "Showtime," the high school's annual variety show.
"I can't believe that it's already 'Showtime' week, my senior year," said LHS senior Scott Penny, who was dressed in costume as Kermit the Frog.
Senior Margaret Pendleton, who was dressed as Miss Piggy, also prepared to take the stage with Penny and others to perform "The Muppet Show Theme."
"It's kind of one big hoo-rah before we all graduate," she said.
For Cathy Crispino, the school's choral director, these three performances are about sending a dedicated senior class out the right way.
"This is the beginning of the end for the seniors. This always is a hard time of year for me because I watch them grow up and they are becoming such wonderful people," she said.
The show has become a Lawrence mainstay since former choral director Lewis Tilford started it in 1973. Free State High School started a similar show, "Encore," when the school opened in 1997.
This year, "Showtime" features 37 acts, about 130 performers and a variety of musical styles.
Photo Gallery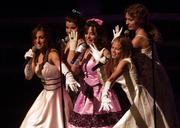 "Showtime" 2006
The performers auditioned in February and worked with Crispino, assistant director Rogene Anderson and choreographer Barbara Wasson.
"We talk about the tremendous gift they are giving to the community. It's a wonderful gift that they give with their energy and their talents and their spirit," Crispino said.
A packed auditorium is expected at 7:30 p.m. tonight and Saturday. Tickets are still on sale at Hy-Vee stores, in the school's cafeteria during lunch today and at the school before the shows.
"It's been probably the biggest part of my high school career," said senior Jane Turner. "I've been singing since I can remember."
Turner first takes the stage with a group to perform "Wishin' and Hopin'" as recorded by Dionne Warwick.
Senior Ray Segebrecht designed the choreography for one of his group performances. Thursday evening, he anticipated the first of his last three "Showtime" performances.
"You always want to have a great start on opening night because it kind of sets you up for a good weekend of shows," he said.
Crispino said anyone who wants to see the show will be able to get a seat either tonight or Saturday.
Copyright 2018 The Lawrence Journal-World. All rights reserved. This material may not be published, broadcast, rewritten or redistributed. We strive to uphold our values for every story published.