Photo Gallery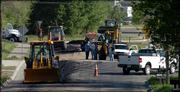 Biosolids spill
A "biosolids" spill in east Lawrence blocked traffic along Haskell Avenue this morning.
Clean-up took several hours this morning on a foul-smelling spill of "biosolids," or treated sewage, that blocked off traffic on an eastern Lawrence street.
"It stinks," said Israel Bermudez, who lives near the spill, which stretched a few blocks on the southbound lane of Haskell Avenue from about N 1550 Road to the 1300 block.
"I was wondering if I could get pain and suffering (damages) from this," Bermudez said, joking about filing a lawsuit.
City crews were called in to removed the waste from the street about 8:30 a.m. and had the street reopened shortly before 11 a.m.
The spill started as a truck carrying a by-product from the city's sewage treatment plant was heading south to take the biosolids to a field near Pleasant Grove to be used as fertilizer.
Police flashed their lights at Sue Deese, Oskaloosa, who was driving the truck about 8:30 a.m. to let her know about the spill.
"We're gonna grow corn, right in the middle of Haskell Avenue, y'all. It's plenty fertilized," Deese said.
13th and Haskell
Carl Janssen, project manager for NutriJect Systems Inc., which owns the truck, said he loaded the truck at the city plant and checked the latches, but they malfunctioned on the roadway, he said.
Assistant City Manager Debbie Van Saun, said the material which is a residual left behind after sewage is treated - did not pose a significant health or safety risk to the public.
"But obviously, it does not belong on the street," Van Saun said.
Van Saun said city crews were keeping track of their time to seek reimbursement from the contractor who was hauling the material.
Copyright 2018 The Lawrence Journal-World. All rights reserved. This material may not be published, broadcast, rewritten or redistributed. We strive to uphold our values for every story published.