Loni Hosking would like to sell you her recycled rubber bra.
If you'd rather just talk about it, that's fine, too.
"Nobody ever bought the rubber bra," Hosking says, "but it makes a great conversation piece."
Hosking, owner of the new shop Ecoboutiquo, will be one of the local clothing designers featured tonight at the second annual Earth Day Fashion Show, which begins at 7 p.m. at Liberty Hall, 642 Mass.
The show, a fundraiser for the Wetlands Protection Organization, will feature more than 90 models showing off outfits both by local designers and sold by local merchants.
Last year's event drew 240 people and raised $3,000 for the WPO, which is fighting to preserve the Baker Wetlands south of Lawrence in the debate over construction of the South Lawrence Trafficway.
"This year, we're going to outdo last year," says Mark Chapman, event organizer and owner of Lada Salon & Spa, 4931 W. Sixth St. "There's no event like this (in Lawrence), so we're going to make it bigger and better. I think people in Lawrence crave something like this to not only do, but to see what the new looks are going to be."
Designs on Lawrence
Hosking, whose shop is upstairs at 918 Mass., Suite B, is creating some new looks of her own.
Photo Gallery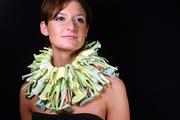 Earth Day Fashion Show
She designed most of the outfits in her store, and everything includes recycled materials.
That might mean part of a discarded outfit has been given new life in a new outfit. Or it could mean a material has been used in a different way, such as the purses she makes out of old license plates.
"I take an item that might otherwise be throwaway and rethink it," Hosking says. "If you go in with an open mind, you'd be surprised what you can come up with."
Jennifer Wehlacz's clothing often comes with an element of surprise, too.
The Kansas University graduate student's bracelets, necklaces, broaches, earrings and even full-body pieces are made of brightly colored rubber, and several will be featured in tonight's show.
When her friends wear the pieces in public, strangers often approach them to ask questions.
"They want to know where and who and what it's made out of," Wehlacz says. "And they definitely want to touch it."
Past Event
A fashion benefit for the Haskell-Baker Wetlands preservation effort
When: Thursday, April 20, 2006, 7 p.m.
Where: Liberty Hall Cinema, 644 Massachussets Street, Lawrence
Cost: $10 - $15
-->
-->
Wehlacz initially gravitated toward silver jewelry for her Master of Fine Arts degree. But she eventually fell in love with molding rubber instead.
"It's all about body and motion and attitude and being fun and being a woman," she says. "If a guy goes into a jewelry store, he's probably going to pick out something shiny."
Wehlacz is hoping to pursue a career in jewelry design, and she's already sent some of her work to a gallery in New York City.
The world of design is more of a hobby for Tristan Telander, a junior at KU majoring in graphic design. She worked with a friend, Monica Gundelfinger, to create several outfits for last year's fashion show.
"Both of us have designed what we wear and alter our own clothing," Telander says.
The duo worked together again this year to design one-piece summer outfits for women.
"They're kind of like jumpers, with different variations," Telander explains. "It's really for summertime. I think it mirrors the swimsuits almost from the 1920s that women used to wear."
'Not New York City'
Lawrence, the designers say, isn't exactly the capital of the fashion world. But with so many students coming in from across the country and around the world, it's not blue-jean-and-T-shirt central, either.
"I think there's a good amount of expertise here," Telander says. "However, because of our geographic location - away from big cities or Eastern civilization - I think we're the last to hear about things if you're not really going to actively pursue looking. As far as trends go, we are the last to keep it going."
Wehlacz has seen what it takes to open up Midwesterners' eyes to new fashion. She admits her jewelry designs are bold, but she's a bit surprised when even her classmates raise their eyebrows at the idea of wearing her pieces in public.
"We're not close-minded about that sort of stuff," she says, "but we're definitely not New York City."
Chapman, the fashion show organizer, says he hopes the event can help put Lawrence on the fashion map - or at least give residents some ideas for their own wardrobes.
"It's a good opportunity," he says, "for people in Lawrence - not that we're sheltered - but to get to see some clothing that will be fashionable for the upcoming years."
Copyright 2018 The Lawrence Journal-World. All rights reserved. This material may not be published, broadcast, rewritten or redistributed. We strive to uphold our values for every story published.