If the state stops charging admission to Clinton State Park, as the governor proposed Tuesday, some park volunteers think trouble would walk right in.
"You'd see partiers, drinkers," said David Frye, who works at the admission booth at Clinton. "I'm totally opposed to it."
Admission to the state's 24 parks would be free for Kansas residents starting Jan. 1 under a proposal Gov. Kathleen Sebelius included Tuesday in budget amendments offered to legislators.
Her proposal would set aside $4 million in lottery revenues for the parks system and provide $1.25 million in general tax revenues. The money would more than offset the loss of fees Kansans now pay, giving the Department of Wildlife and Parks new dollars to maintain parks and their roads, cabins, restrooms and bathhouses.
Frye said he sees potential park users come to the area to party or create some other disturbance, but they often leave when faced with a fee.
But Keith Sexon, assistant secretary of operations at the state parks department, said parks at Clinton and Perry lakes and elsewhere across the state need a steady income source if they are to be properly maintained.
Fees haven't always provided for that, he said.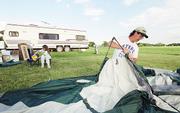 "We have to continue to think about a long-range, dedicated funding source," Sexon said.
The department has complained for years the state isn't providing enough tax dollars to maintain parks, forcing increases in entrance fees.
This year, the cost of a per-day vehicle permit for most visitors rose to $7 from $6, while the price for an annual permit rose to $46.65, up $10 from last year.
"We do hear that the fees are so high that they begin to impact on families, they begin to impact on low- and moderate-income Kansans and it keeps people away from the parks," said Wildlife and Parks Secretary Mike Hayden.
Last month, senators approved a bill setting aside the lottery dollars for parks. The measure is before the House Appropriations Committee, and Sebelius endorsed it Tuesday.
But without fees acting as a gatekeeper at park entrances, Sexon admitted that parks in Lawrence and elsewhere would be faced with potential security issues.
"There is some concern that there would have to be more enforcement," Sexon said.
Clinton Park had about 473,000 visitors in 2005, while Perry had close to 159,000, according to the department's annual report. Without fees, the number of visitors is likely to increase.
House committee Chairman Melvin Neufeld, R-Ingalls, said he and other lawmakers were skeptical of the parks proposal.
Neufeld isn't sure the state will have enough lottery revenues to set aside an additional $4 million, noting that other lottery dollars already are committed, mostly to economic development programs.
And, he said, some legislators worry that Sebelius and Hayden are using the park system to preserve wildlife habitat, rather than lure visitors and promote economic development.
"That's really the debate that we're not having that we should be having," Neufeld said.
Hayden said his goal is to increase park use, especially by Kansans.
"The parks are beginning to deteriorate," he said. "The more they're in disrepair, the less people can enjoy the parks."
Though the park system's budget has increased by nearly 56 percent in the past decade, to $8.8 million, it's not risen enough to keep pace with operating costs, Hayden and other officials contend.
Also, the system is relying far more heavily on fees. In fiscal 1996, the state collected $2.4 million in fees for its parks; by fiscal 2005, that figure had tripled, to $7.3 million. A decade ago, general tax dollars accounted for more than half of the parks system's funding, and in 2005, the figure was less than 17 percent.
Copyright 2018 The Lawrence Journal-World. All rights reserved. This material may not be published, broadcast, rewritten or redistributed. We strive to uphold our values for every story published.