Kerplunk.
That's the main noise that came out of City Hall on Tuesday night as a student proposal to make the city's noise ordinance less subjective largely fell flat with commissioners.
Leaders of Kansas University's chapter of the American Civil Liberties Union and other student groups had asked the city to limit the discretion that police officers had to issue noise ordinance violations. Instead they wanted the city to require that decibel meters be used to measure the sound coming from parties and other events before a ticket could be issued.
The student group began pushing for the ordinance change after city officials confirmed the number of noise ordinance violations they were prosecuting had climbed from three to four per week to 10 to 15 per week.
But Tuesday night, city commissioners said there might be a good reason for that.
"The reason the prosecutions have gone up is because there was a serious problem with noise," City Commissioner Boog Highberger said. "I have to say I've seen a steady increase in unneighborly behavior. I think it reached a point that the City Commission had to do something."
None of the five city commissioners said they had seen enough evidence to support a change to require the use of decibel meters. The city's legal staff and the Lawrence Police Department both expressed concerns about the ability to effectively enforce the noise ordinance.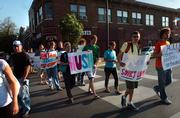 Neighbors also asked city commissioners to leave the law alone.
"I would like to let the police do their job and trust that they are trained properly," said Tom Harper, a member of the Centennial Neighborhood Assn. who told commissioners he sold the home he was living in six years ago because of noisy neighbors. "I think our system now is finally working."
Students, though, said commissioners did not understand that some people were being unfairly punished by the noise ordinance. Before the meeting, about 20 KU students marched through downtown with signs - such as "Are We in the Soviet Union," "Noise is Nifty" and "Better Law is Better for All."
The students told commissioners that police officers had come to parties to issue noise violations when the sound wasn't even audible from outside the house.
"I know there are some people who violate the law and need to be punished," said Ben Cohen, a KU freshman. "But there are some people who are concerned that their neighbors just have a grudge against them or against students in general."
Students presented commissioners with a petition that had about 400 signatures asking that the ordinance be changed.
In a related matter, commissioners held off on making any changes to the ordinance that would regulate construction noise more closely.
There had been some neighborhood complaints that noisy construction activity near residential areas was happening at night or in the early morning.
But commissioners said the total number of noise complaints related to construction noise was still relatively low. Commissioners directed staff to convene a meeting with neighborhood and construction leaders to discuss the issue in more depth.
Wal-Mart discussions may be brewing
City commissioners Tuesday night spent a considerable amount of time huddling in a closed-door meeting with the attorney that is defending them in a lawsuit filed over Wal-Mart's efforts to build a store at Sixth Street and Wakarusa Drive.
Commissioners went into executive session with their attorney - Overland Park lawyer Scott Beeler - while Todd Thompson, a Lawrence attorney representing Wal-Mart, waited in the City Commission chambers.
Following the meeting, commissioners would make no comment about the case. Specifically Mayor Mike Amyx and interim City Manager David Corliss declined to comment on whether the city was in talks to settle the lawsuit out of court. Thompson also declined to comment on whether the parties were discussing an out-of-court settlement.
The case is scheduled to go to trial Monday, when Douglas County District Court Judge Michael Malone will hear arguments. According to court records, Wal-Mart within the last week has subpoenaed four city leaders to testify in the case: Mike Wildgen, former city manager; Linda Finger, former planning director; Victor Torres, director of neighborhood resources; and Corliss.
The city previously had argued that those officials should not be required to testify. Wal-Mart attorneys, though, said their testimony was necessary to show that the city wrongly denied a building permit for the project, which is what the retail giant alleges.
November vote on library plan unlikely
Bruce Flanders, director of the Lawrence Public Library, told commissioners Tuesday that he thought it was unlikely that a plan to build a new downtown library would be far enough along to ask for voter approval during November's election.
Library leaders have never set a timeline for bringing the issue to a vote, but Flanders said he thought an election this year would be a "pretty aggressive timetable."
Instead, he said an election in April 2007 - when three city commissioners will be up for election - would be more realistic from a design standpoint.
City commissioners haven't settled on a site for the project, nor officially given it a green light. The discussion came up as commissioners appointed a committee to review public-private partnership proposals for a new downtown library. Those proposals are due May 4.
The committee includes city commissioners Sue Hack and David Schauner; Flanders; library board members John Nalbandian and Ron Hurst; New Directions Task Force members Craig Penzler and John Gaunt; Corliss; and other city and library staff members.
Copyright 2018 The Lawrence Journal-World. All rights reserved. This material may not be published, broadcast, rewritten or redistributed. We strive to uphold our values for every story published.