It was an opportunity that Amanda Howard didn't imagine when she began competitive cheerleading two years ago, but on Friday the 18-year-old Free State senior signed a letter of intent to cheer for the Coyote Cheer next season.
"Today is an exciting ending to one chapter and start to a new chapter in my life," Howard said, after signing her letter of intent. "I am looking forward to next year."
Howard credits her hard work in practice as the reason she was able to rise so quickly in the sport over such a short period of time.
"Our coach, Jimmy Godfrey, tells us to practice, practice, practice because with persistence we can go higher and higher until we have reached and realized our goals," said Howard, who practiced twice a week for three hours at a time.
While Howard was born in Kansas City, Mo., the daughter of Bob and Veronica Howard moved frequently across the Midwest as a youngster, living as far south as Edmond, Okla., to as far east as Franklin, Tenn. Relocating was part of the reason Howard never became involved with the sport until arriving in Lawrence. But her first year here, she was a member of Dance City's senior cheerleading squad. This past season Howard competed with G-Force Athletics as a member of their senior squad.
At G-Force Howard dedicated herself to competitve cheering because she fell in love with the sport.
"Competitive cheering is being welcomed into a family who all works hard to reach one goal, and when you get there it is the most satisfying feeling."
Godfrey praised his senior for the valuable leadership she provided to the team.
"She is wonderful at making sure the team is doing what they are supposed to be doing during competition and in practice," he said. "Amanda is great at keeping the morale of the other girls up and making sure performances go OK."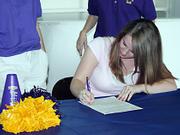 Both Godfrey and the gym's other coach, Hallie Godfrey, said Amanda's biggest strength is that she is comfortable in front of a crowd, which will be a huge asset for her as she cheers at the next level.
"It shows in game situations when you are cheering for a team that you can invite the crowd," Hallie Godfrey said. "She knows that you are not cheering for yourself but getting the crowd involved."
In addition to receiving a scholarship to cheer at Kansas Wesleyan, Howard also received a scholarship from the music department and will be a member of the Concert Choir and Honor Choir.
Howard acknowledged the big challenges that await in adapting to a new environment and new people, but is looking forward to the new adventures of college life.
"I know I am going to have fun cheering at the collegiate level," she said. "It will take a lot of time and devotion, but that is how I got here so I am prepared. I am looking forward to the new squad and new friends."
Copyright 2017 The Lawrence Journal-World. All rights reserved. This material may not be published, broadcast, rewritten or redistributed. We strive to uphold our values for every story published.