Robby Price has heard the whispers for years.
About how he catches a break because of his old man and his older brothers.
The truth is, having a father who coaches college baseball and two siblings who play the game does have its advantages. When you're the youngest son in that lineage, you not only learn the game at a rapid pace, but likewise figure out if you decide to play it, you better work hard to make sure you're not the one who couldn't cut it.
Such has been Price's approach, and the numbers he's produced during a four-year varsity career at Free State High are more than ample proof that the son of Kansas University head coach Ritch Price isn't simply the creation of jealous rumors.
Instead, he's havoc-causing leadoff hitter, slick-fielding shortstop, and, for the first time this spring, a trusted member of the Firebirds' pitching rotation.
It's a package that will take him to KU next season, where he hopes to blaze his own trail despite following in the footsteps of brothers Ritchie, currently a senior shortstop for the Jayhawks, and sophomore Ryne, a second baseman in the same infield.
You're in your fourth year as a varsity player, and Free State is ranked No. 2 in the state in Class 6A. How do you feel about the way things are coming together in your final high school season?
So far it's been pretty good. We're starting to come along hitting-wise. We got off to a slow start as a team. But the pitching's been pretty good. We didn't really expect our pitchers to throw this good. Travis (Blankenship) and Scott (Heitshusen) have done good, and I've come in and done all right myself. But our hitting's come around, and our hitting's our key to winning.
You've got a reputation because of your background and also your skills as a shortstop and a hitter. What's it been like this year being on the mound and being able to impact the game from that side of things?
I like it. It's new. It's exciting. Obviously I'm going to play shortstop next year, and I have to play shortstop defense-wise for our team. But I'm just trying to help the team any way I can, and if that's going and pitching a few innings, that's what I'm going to do.
Photo Gallery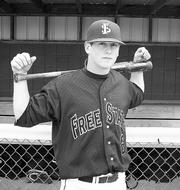 Robby Price
Have you gained a new appreciation for what guys are trying to do to you when you're at the plate now that you're on the other side of it?
I can see why people want to get ahead now. It's all about getting ahead. That's my success so far this year, is just throwing strike one pretty much. You're going up there, and you're going to be aggressive hitting because you know they're trying to get a couple of strikes on you.
You've had the opportunity to learn the game from a lot of people. Which has had a bigger impact on you - the fact that your dad is a college baseball coach or the fact that you have two brothers who have recently experienced everything you are now experiencing?
My dad gives me the fundamentals and how to play, and if I need help he's always there for me. But I think my brothers had a bigger impact just because I can always go to them. They know what's going on, and they've been there and its recently, so I get to watch them play too and learn from that. They've been there every time I've needed them and it's just been a good learning experience both ways.
Are you looking forward to playing for your dad and not just having the father-son relationship but the coach-player relationship?
It should be interesting. I don't know how it will go. But my brothers seem to enjoy it, so it should go all right. I'm looking forward more to playing with Ryne and that relationship there.
Did you ever give any thought to playing college ball anywhere else?
(My dad) always told me I could go anywhere I wanted, so I looked at a couple of schools, like Stanford. But when it came down to it, my gut feeling was just it was too good to pass up here at KU. And then playing with my brother was another key factor.
Do you feel any extra pressure because of your name?
A little bit. But I think it kind of makes me better just because I have to rise up to it. I see what Ryne and Ritchie have done so far, and it's just kind of like a goal-set. I'm not just this other guy. I'm trying to be good and I just put a lot of time in and just try to get my name put in with them.
Copyright 2018 The Lawrence Journal-World. All rights reserved. This material may not be published, broadcast, rewritten or redistributed. We strive to uphold our values for every story published.