Kansas University civil libertarians are preparing to make some noise about the city's noise ordinance, as some violators face fines up to $300 or even light jail time.
Members of the KU chapter of the American Civil Liberties Union are planning to march on City Hall tonight to protest the city's noise ordinance, which they think gives police officers too much discretion in determining whether parties or other gatherings are too loud.
"With our current ordinance, what is not criminal one night might be criminal the next night," said Justin La Mort, president of the KU ACLU chapter. "That's not how good law should be written."
Instead, La Mort and other KU student organizations are urging the city to adopt a new noise ordinance that would require police officers to use a decibel meter to determine whether a party or other activity is generating noise above a certain measurable level.
City commissioners will consider the issue at their 6:35 p.m. meeting. They'll hear from the city's legal staff that the idea is a bad one.
"The enforcement-related issues are the predominant issues we have with it," said Scott Miller, a city attorney.
Miller said Kansas courts haven't yet set a clear precedent that readings from a sound meter are valid evidence to convict someone of a crime. That means a new ordinance could cause the city to have to present expert testimony about sound meters at noise ordinance trials, if a defendant challenged the validity of a reading.
Several concerns
But a larger issue may be that it takes only a second for partygoers to hit the off switch on a stereo. Miller said for police officers to get a reading, they would have to arrive at a party scene undetected.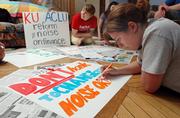 "When everyone sees the police, they are going to scatter," Miller said. "Officers may have heard the noise but didn't have the meter set up. In that case, they couldn't write a ticket."
Cost also is expected to be a concern. Miller estimated devices capable of satisfying a court would cost $500 to $1,000 a piece. The city has 23 patrol cars.
But La Mort said the city's legal staff was making the issue too difficult. He said it was not uncommon for communities, especially college communities, to use the decibel meters.
In Tuscaloosa, Ala. - a city where La Mort has studied the use of the devices - a city attorney there said Monday that the decibel meter system works well.
"We feel like it is really about the only effective noise ordinance you can have," said James Woodson, an associate city attorney in the 85,000-person city that is home to the University of Alabama. "We saw that the noise ordinances that were being successfully challenged in court were the ones that didn't use a decibel meter."
La Mort thinks the city's current ordinance is susceptible to a legal challenge because it is too vague. The Lawrence law makes it a violation to make "any excessive, unreasonable or unusually loud noise which disturbs, injures, endangers the repose, health, peace or safety of other people of ordinary sensitivity within the vicinity of the noise."
Miller, though, said that language was specific enough to withstand a court challenge. He said a state court in 2003 upheld Wichita's noise ordinance, which contains virtually identical wording.
Miller said if the city wanted to make a change, he would recommend it rewrite the ordinance to make it illegal to produce noise "plainly audible" to the human ear from a certain distance. La Mort said that would be better than the current law, but said he preferred the specificity that could be provided by a noise meter.
More violations
The noise ordinance has become a front-burner issue for the KU ACLU after the city made a policy change - pushed for by neighborhood groups - that allows police officers to write a ticket without requiring the complaining neighbor to file a police report.
City prosecutors confirmed that the number of noise ordinance violations they are prosecuting had increased from three or four violations per week to about 10 to 15 per week.
Prosecutors also confirmed the Municipal Court judge had recently handed down some significant sentences. A two-time noise ordinance offender was sentenced to two days in jail and given a $200 fine. Some first-time offenders have received fines of as much as $300.
"Those kind of penalties make me fearful, considering how vague this law is written," La Mort said. "I know there are neighbors who make too much noise and deserve to be punished. But we need to make sure we're punishing the right people. With this law, I don't think we know that we are."
Copyright 2018 The Lawrence Journal-World. All rights reserved. This material may not be published, broadcast, rewritten or redistributed. We strive to uphold our values for every story published.