The third most important day of her life is coming up, and Anita Arkeketa needs to look good.
But no matter how hard she tries, the 50-year-old bride-to-be can't tame her thick, coarse graying hair.
"I'm panicking," Arkeketa says. "I'm not, like, bizarre-looking or anything, but I'm getting married on the 29th, and I just don't know what to do with it."
To cure her dilemma, Arkeketa sought professional help in the form of three "highly recommended" hair stylists, two in Lawrence and one on the uber-ritzy Plaza in Kansas City.
After much tousling, twisting, poofing and shellacking, each stylist simply gave up.
"I can't tell you how demoralizing it makes you feel," she says. "You just feel terrible. It's like, I came here for help, and I'm hopeless!"
After the stylist visits fizzled, Arkeketa went to a bridal show in Kansas
City. Out of hundreds of audience members, she was pulled on stage for a complimentary bridal makeover.
"I thought, 'Oh, great, I'll get to figure out what to do with my hair,'" she says.
Unfortunately, the makeover didn't go as well as she'd hoped. Thirty minutes and three stylists later, Arkeketa's hair was a mess, complete with worm-like Medusa twists.
"They said, 'I don't think we can do anything,' and everyone was looking at me and I just felt really embarrassed. I had all these blond-colored hair pins in my black-and-gray hair," she says.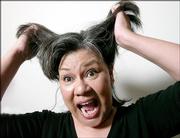 Third most important day
Arkeketa is no ordinary bride.
"I'm an older bride," she says. "I mean I think I look like I'm in my late 30s or early 40s, but I'm 50. And I know that there are a lot of people out there my age that are remarrying. I'm not ready for the granny look, and I feel like I'm 20."
When she really was 20 years old, in the early '70s, Arkeketa had long, pin-straight dark hair. Back then, she attended Haskell Indian Nations University, where she met fellow student Jesse James Jr. The two dated during college, but for one reason or another, their romance didn't survive their 1974 graduation. Each went on to marry and have children, but their romance was rekindled about four years ago. The pair met for lunch, caught up, and, as Arkeketa puts it, "one thing led to another, and we're getting married."
The fast-approaching wedding is, as she sees it, the third-most important day of her life. The other two most important days were when she gave birth to her two daughters. On those particular days, she says, her hair was an utter mess and she looked "so ugly." Child labor isn't known as being particularly glamorous, after all.
That, Arkeketa says, is why the pressure's on to be perfectly coifed on her wedding day.
A curly cure
Arkeketa's is a dilemma that many face. Women with graying hair often have a hard time styling it because it's unruly and grows in coarser than other hair. Other brides-to-be worry that their hair will look either too "done" or too sloppy.
Mark Taylor, owner of Marx Salon, 801 Mass., says customers are always coming to him in last-minute panic attacks before big events. His wedding-hair advice to women is to treat the event like a "costume party" and disregard advice from husbands-to-be.
"Why not?" he says, "Who cares what he thinks? You're wearing this wedding dress, and it's your day."
Taylor, who was appalled that other stylists couldn't offer Arkeketa any advice, says that if he had his way, he'd color her hair deep caramel with a semi-permanent treatment to brighten up Arkeketa's complexion. The semi-permanent color eventually would fade, making it a low-maintenance option. Then, he would set her hair in big rollers and "spray the hell out of it" to achieve voluminous, flowing curls.
Taylor adds that with Arkeketa's shoulder-length hair, pulling it up might be a bit tricky.
"It's hard to get a full updo," he says. "Plus, you don't want to have a bunch of pins in there."
Taking a test run
Laura Zeltner, a stylist at Lada Salon and Spa, 4931 W. Sixth St., says that for the most part, second weddings are pretty informal. For brides, she prefers a soft, natural look to cake-makeup and rock-hard updo.
For Arkeketa, Zeltner recommends loose waves. She says that because American Indian hair can be "really, really naturally straight," she would "wet set" Arkeketa's hair after shampooing with large rollers, then put her under a hot dryer. Or, on a less humid day, a large-barrel curling iron could do the trick.
For brides who want to preview their look before the wedding, Lada Salon and Spa offers a "bridal package." For $150, the bride-to-be can get her makeup and hair done a week or so in advance, then come back on the big day to have it recreated. Zeltner says that the test run takes some of the anxiety out of wedding plans.
"With weddings, you don't want to wait until the day of," she says. "It can be so stressful."
Feeling pretty
As for Arkeketa, she's up for temporarily coloring her gray tresses if it will make her hair look better on her wedding day. But she wants to avoid permanent color to maintain a more natural, low-maintenance look - an option she says many of her friends and fellow baby boomers are choosing.
She says she once had a college-age girl tell her how much she loved her "highlights." Arkeketa, who was flattered, joked that it cost a lot of money because she had to color each strand individually.
While most of her wedding plans are set, Arkeketa's hair remains the only thing that refuses to fall into place. Her preoccupation with what some would consider a trivial detail might just reflect how big her "Big Day" really is to her.
"I know it's not any earth-shaking important thing, but, you know ... I'm just going to be so happy," she says, "And I want to look - I want to feel pretty."
Silver linings
¢ Gray hair is much coarser and drier than other hair. That's why it's important to condition after each shampoo.
¢ If your gray is yellowing, switch to a shampoo formulated for gray hair. These shampoos have a bluish cast that will give you a silvery shine.
¢ Avoid the overuse of heat styling tools. This will further dry out gray hair.
¢ Careful: If hair starts turning purple or blue, alternate the gray hair shampoo with a clarifying type.
¢ Deep-conditioning treatments at a salon or at home are a must.
¢ Scalp massages can increase blood flow to hair follicles, creating healthier hair no matter what color it is.
¢ To smooth unruly grays, spray a little hairspray on a brush and move it across the surface of your hair.
¢ Don't yank 'em. Contrary to popular belief, gray hair doesn't grow back threefold - in fact, it may not grow back at all. It's better to have a few grays than a bald patch.
¢ Keep your gray mane perfectly cut and coiffed - it'll get noticed first.
Source: Ladies' Home Journal, About.com
Copyright 2018 The Lawrence Journal-World. All rights reserved. This material may not be published, broadcast, rewritten or redistributed. We strive to uphold our values for every story published.