For Darcy Morey, walking is awkward. Driving is impossible. Even thinking takes longer than it used to.
"Sometimes I just have to laugh at things because the absurdity of it makes you almost feel like crying," he said.
When this semester ends, the Kansas University assistant professor of anthropology will make a quiet departure from KU, an institution that once held promise for a blossoming career until a horrible car accident changed everything.
Six years ago on a rural highway in central North Dakota, the pickup truck Morey was driving collided head-on with a semi truck. Beating the odds, Morey survived, but he continues to battle the multiple injuries that linger from the accident.
Morey's exit from KU is laced with disappointment and relief. He'd like to stay, he said, but he can't find a position that accommodates his very unique circumstances.
"I gave my heart and soul to this university," he said.
Accident
In July 2000, two years after he joined KU's faculty in a tenure-track position, Morey headed to North Dakota for an archaeological field school. On the night before the school's last day, Morey stopped at a small convenience store to fill water coolers for the students. He pulled out and, further down the road, veered into the path of an oncoming truck. Some say he may have fallen asleep at the wheel, he said, but Morey doesn't recall anything from that night.
When Clayton Verke, a seasoned firefighter, reached the wreck, his gut told him he'd find the driver dead. He saw a pickup - actually, a heap of twisted metal and broken glass - in the middle of the road.
Audio Slideshow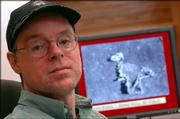 Professor Darcy Morey
When this semester ends, Kansas University assistant professor Darcy Morey will make a quiet departure from KU, an institution that once held promise for a blossoming career until a horrible car accident changed everything.
"I would have bet anything that it was a body recovery," Verke said. His crews would handle a dead body differently, taking their time at the scene.
But when Verke approached the unconscious body, he felt a pulse and saw the man was breathing. The scene changed. The crews began to scurry, getting Morey inside an ambulance and flooring the pedal for the 40-mile trip to Bismarck.
"We get a few accidents that kind of stick out in your mind, and that's one of them," said Verke, who now is fire chief for the Washburn, N.D., fire department.
In the days following the wreck, Verke would hear differing reports about Morey. Some stories indicated he survived. Others said he didn't.
Recovery
Morey had planned to spend that summer of 2000 in Denmark doing research.
His wife, Beth McClellan, now associate professor of geology at KU, was in Norway doing field work.
McClellan rushed back, not knowing whether she'd return to a husband or a corpse.
Morey was transferred from a Bismarck hospital to the Mayo Clinic in Minnesota where he spent six weeks.
The diagnosis: Likely more broken bones than unbroken ones and severe brain trauma called diffuse axonal injury, which often causes a persistent vegetative state in patients.
The prognosis: If Morey lived, he would spend his days in a nursing home.
Morey often has no other way to describe what he's been through than to say he's been to hell. He spent a year in hospitals and more months in outpatient therapy. His condition improved.
In the beginning, he didn't recognize people, and he couldn't speak. When he did voice words again, out came a stream of seemingly disconnected ideas.
It was like a child learning to speak, McClellan said, except that the words recalled a personal history. Nurses thought it was gibberish, but not McClellan.
"Those of us who knew him or knew his history could start recognizing little bits of memories from his grad school days or his childhood days," she said.
Work again
Morey's troubles are far from over.
"It's all a struggle," he said. "It's just so absurd, you might as well laugh."
The brain injury caused double vision, a condition for which he's had three surgeries attempting to correct. But Morey continues to see two of everything, and he considers it to be by far his worst impairment.
And he said he gets confused more easily than before the accident. It takes him a bit longer to process information.
Morey returned to KU in the spring of 2002, teaching one course. He returned to full-time the following fall.
"It was the hardest thing I've ever done," he said.
The schedule was too exhausting, and the following year he moved to a 3/4-time schedule. He can no longer be a typical faculty member.
"My realities are the opposite of conventional," he said.
But he continues to work.
"He has an amazing knack for building rapport with his students," said Libby Huber, a KU student who has taken Morey's class. "He works hard for us. He is a remarkably dedicated teacher."
His anthropological research on the relationship between humans and dogs was recently published in the Journal of Archaeological Science.
Morey, 49, tried to get a long-term situation that would allow him to continue teaching and doing research on a much smaller scale, he said. When KU would not agree to it, Morey resigned.
"Call it pre-emptive," Morey said.
Jim Mielke, chairman of KU's anthropology department, said he couldn't talk about Morey's situation because it was a personnel matter.
When asked about Morey's contributions, Mielke said they've been "absolutely wonderful."
"He's regarded very well, just as a lot of individuals are in the department," Mielke said.
Morey and McClellan have taken posts at the University of Tennessee at Martin where Morey will teach a course in an adjunct-type capacity.
"My goals are to be in a situation where I can do the things that, remarkably enough, I'm still good at," he said.
A new life
Morey expects to have hip replacement surgery in the future. And, unless there are medical breakthroughs, he predicts he'll have double vision for the remainder of his life.
"I've gone as far I can," he said of his physical condition. "I'm going to be impaired all my life."
McClellan said she sees him taking small steps.
"I still see improvement - just in the way he handles life and handles situations," she said.
The two cheer each other on in a life filled with questions of, "What if?"
"There are things I don't let myself think about much these days," McClellan said.
For example, the times they used to spend in the garden or hiking or canoeing down Kentucky's Green River.
"It was a rich life in many ways," McClellan said. "I don't like to dwell on what we've lost. At least we didn't lose it all."
Copyright 2018 The Lawrence Journal-World. All rights reserved. This material may not be published, broadcast, rewritten or redistributed. We strive to uphold our values for every story published.