Photo Gallery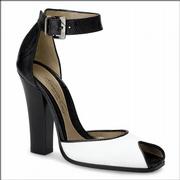 Shoe fashion
This season's trendiest shoe shapes are sure to put a little spring in your step.
Comfort has entered the consciousness of the fashion world that offered a steady stream of pointy-toe stilettos for several years. Last summer women rebelled, wearing flip-flops for nearly every occasion.
So, what was on the runways that soon will be on the sidewalks? Wedge heels, ballet flats, peep-toes and spectators.
The new shoe shapes "are getting to be interesting," says Richard Olicker, president of wholesale for Kenneth Cole Productions. A cork-heel style and a floral-pattern wedge are emerging as top sellers of the season, not coincidentally because they're complementary to the artsy, handicraft trend of spring's clothes. Two-tone spectators go with nautical looks and black-and-white graphic prints, and peep-toes are feminine yet professional.
Ballet flats, always a popular option, are even more so this year. And the sweet, girlie silhouette lends itself to capri pants and longer, flowing skirts. Espadrilles, another favorite summer style, also are having a banner year, reports Lori Sternthal, marketing manager for Aldo. It's a natural match for Bermuda shorts, short shorts and babydoll dresses, she says.
Copyright 2018 The Lawrence Journal-World. All rights reserved. This material may not be published, broadcast, rewritten or redistributed. We strive to uphold our values for every story published.