Try to picture Lawrence having a governor.
Instead of the current system where the city is led by a mayor elected by fellow city commissioners each year, Lawrence would have a mayor elected directly by voters every two or four years. And the "strong" mayor would have many of the same powers as a governor or the president - such as the ability to veto laws, draft the city's budget and hire and fire the city manager.
Such talk is floating around town. David Burress, a Lawrence-Douglas County planning commissioner and retired Kansas University economist, has talked about the idea for months. But he said now that the city already was in transition following the forced resignation of longtime City Manager Mike Wildgen, the community ought to seriously discuss the idea.
He said there would be some real benefits to voters. Chief among them: If voters thought the city wasn't being operated properly, they would have a single person to focus their scorn upon.
"You can say right now that the buck stops with the city manager, but so what? Voters can't do anything about it because they can't vote the city manager out of office," Burress said. "You can try to get three commissioners to do that, but that is very difficult.
"You want a single person that you can yell and scream at and vote out of office if the city isn't being run well."
The talk of a mayoral change may just remain talk, though. A majority of city commissioners said they had no interest in giving a single person that much power, though they left the door open slightly for a more moderate proposal by a KU political science professor that would allow voters to directly elect a mayor but would not give the position broad new powers.
"But I have to tell you, I think the system we have right now works pretty well," Mayor Mike Amyx said.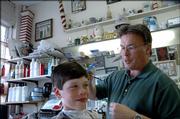 Checks and balances
Burress said his idea would add needed checks and balances to city government. Under such a system, the mayor would not vote on issues unless there was a tie. Instead, the mayor would be more of an executive, working with the city manager to run city operations. City commissioners would focus on setting policy and passing laws.
Burress said that would give voters a clearer picture of who is responsible for what.
"As a voter, if you think the laws are bad, you get rid of the commission," Burress said. "If you think the execution is bad, you get rid of the mayor and the manager."
The idea, though, sparked considerable concerns from several city commissioners.
"That is a very single source of power that I just don't see this community buying into," said City Commissioner Sue Hack, who also is a retired teacher. "I used to have a sign in my classroom that said, 'Save time. Do it my way.' That idea didn't always work in my classroom, and I know it doesn't work at all in Lawrence government."
John Nalbandian, a former city commissioner and mayor and current chairman of KU's public administration department, said he would be very concerned if Lawrence moved to a strong mayor form of government.
He said he wasn't sure the majority of Lawrence residents wanted a city government that operated more like state or federal governments. He's also convinced a strong mayor form of government would create tension between the commission and the mayor.
"It really would be a ridiculous idea for Lawrence to ever talk about," Nalbandian said. "You can't really have a city manager in that situation. You end up with a chief of staff that serves at the pleasure of the mayor.
"The person may be a professional or may not because it is totally up to the mayor. But I can guarantee you that if the mayor doesn't want the manager to talk to the other members on the council, then he won't talk to them because he knows who controls his job. You're just asking for conflict."
Moderate mayor
But there may be a way for Lawrence voters to directly elect a mayor without granting the powers that concern commissioners.
Burdett Loomis, a political science professor at KU, has proposed a system that would require voters to select a mayor. But the mayor would not have veto power and could not hire and fire the city manager.
Instead, the change would create a mayoral position in city government that would be expected to promote new ideas and initiatives. As it is now, Loomis thinks city commissioners may ask the city manager to do too much of that "policy championing" type of work.
"The management side may suffer at times because you're asking your manager to spend time promoting new policies," Loomis said.
And he said he thought voters would notice a difference in campaigns. He said if two mayoral candidates squared off head-to-head, it likely would create more substantive discussions on hot-button topics such as the smoking ban or the pace of growth.
"You could have a discussion between two candidates instead of the babble we sometimes get when you have six candidates running for City Commission," Loomis said.
Nalbandian said he thought those mayoral changes might be worth considering in the future, though they're not worth distracting from the commission's current search for a new city manager.
-->
"In that system, the mayor would be in a better position to take more initiative," Nalbandian said. "But I wouldn't do it at all now. Searching for a city manager is a big enough deal on its own."
City commissioners, though, said they had concerns with that type of system, too.
"If I had to take a position today, I probably would not support it," City Commissioner David Schauner said. "Maybe in a year after we've cleared our plates some, I would reconsider it. But I'm not sure I know what is broken."
How it stands
¢ The Lawrence City Commission consists of five officials elected at large.
¢ Three city commissioners are up for election every two years. The two top vote-getters win four-year terms, and the third-place finisher wins a two-year term. In that way, a majority of the commission can be replaced in any election. No term limits exist.
¢ The City Commission elects a mayor and vice mayor annually at the first meeting in April.
¢ The City Commission passes resolutions and ordinances, establishes policies for the city, approves the budget and hires the city manager.
Source: www.lawrenceks.org
Copyright 2018 The Lawrence Journal-World. All rights reserved. This material may not be published, broadcast, rewritten or redistributed. We strive to uphold our values for every story published.