New Orleans — High heels echoing, Ruby Ducre-Gethers crosses the floor of her airy but unlivable home - ear on her cell phone, eyes on the workers replacing her flooded-out walls, and mind on payback at the ballot box.
Across town, Irma Williams says the election for mayor this week isn't truly an election without her neighbors to vote - but she says it's past time for street lamps to work outside her temporary trailer.
Alex Beard wakes up a thousand miles away and reads the New Orleans newspaper online, following each day's campaign news convinced that the storm brought a chance to rescue the city he adopted and then reluctantly fled.
Some people in New Orleans are angry about the government response to Hurricane Katrina and want to render judgment as the city casts ballots for mayor, City Council and most every other elected official, from sheriff to assessor. Many want to look ahead.
Race pivotal
But trumping all that as Election Day approaches, race - and all the history that comes with it here - has become the defining line for this election, dividing the city by neighborhood and color.
Any verdict on Mayor Ray Nagin's leadership, or any of the proposals to move forward, has been swallowed up by recriminations, paranoia and anger. There is fear - and hope - that the city may elect its first white mayor in three decades.
The election on Saturday has been vehemently challenged by those who say it should be postponed until more of those who left in the city's diaspora - more likely black and more likely poor - can find their way back. But early voting, so far, mostly reflects the racial demographics of pre-Katrina New Orleans.
The logistics alone present an unprecedented challenge, like everything else that Katrina left behind - a hundred thousand voters or more scattered across the country, the mystery of how many will actually vote, and potential crowds and confusion if voters flock back to the city on Election Day itself.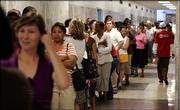 This city is still trying to piece itself back together: huge piles of moldering debris wait uncollected at the curb, drivers creep past nonworking traffic signals or hit the gas and pray, the French Quarter's neon burns bright while many restaurants and hotels are sadly quiet.
"Everything is so broken and destroyed. Everybody's in limbo," said Mark Fowler, manager of an Uptown co-operative that helps musicians replace instruments and find apartments. "The city's been traumatized."
Nowhere to go
Half the city is homeless - living somewhere, maybe within a half-hour's drive, maybe across the country - making it a guess as to who will vote.
"This is the most unusual mayoral election in American history," said Susan Howell, a University of New Orleans pollster. "When have people in 50 states been able to vote for the mayor of one city? This is a logistical nightmare."
And one that's likely to be repeated, since the nonpartisan election is almost sure to narrow the crowded field of Nagin and 22 challengers to two front-runners. If no one gets 50.1 percent of the vote, the runoff will be May 20.
Nagin won in 2002 as a black candidate supported by the white business community. His toughest opponent was the black police chief.
Now, his most serious challengers are two white men. Pre-storm, blacks, with 70 percent of the population, were the decisive vote. The last white mayor, Moon Landrieu, stepped down in 1978.
Everyone uses the city's geography to talk about race: Uptown and the French Quarter are the mostly white neighborhoods that survived with less damage; the Ninth Ward, Central City and New Orleans East are the majority black neighborhoods that suffered the storm's brunt.
"Right now, we have Uptown trying to reclaim its ideology," said Barry Ranski, an Uptown campaign worker bluntly laying out the mind-set of the scores of candidates who've jumped in for races far beyond mayor.
"When you take 65 or 70 percent of the citizens and displace them, they're not going to go through the hassle of registering absentee ballots."
At least that's the hope of some.
And others' fear. "The powers that be want black people out of here," said Beverly McKenna, publisher of the New Orleans Tribune, a newspaper that writes about black issues. "That's what's happening demographically, economically ... It's insulting how transparent it is."
Beard thinks such sweeping denunciations are unfair. An art gallery owner, he sees a chance for the city, black and white, to recognize how badly it had failed over the past half-century.
"If you pull back the curtain at all, and say this has been an increasingly unsuccessful welfare state for 50 years, and a devastatingly unsuccessful one for 25 or 30 years - your timing lines up with the last white mayor of New Orleans. So it's a racist statement, how dare you," he said.
"But it isn't. Everybody's equally guilty, white and black."
Copyright 2018 The Associated Press. All rights reserved. This material may not be published, broadcast, rewritten or redistributed. We strive to uphold our values for every story published.