Not far from the clubhouse, John Tacha looked out over the new and improved Lawrence Country Club golf course and smiled.
"It's beautiful," said Tacha, a longtime LCC member. "It's just going to take longer to be ready."
A year ago this month, LCC officials announced they would shutter the 18-hole course, one of the oldest in Kansas, for a massive $3.2 million renovation project that would be completed in May of 2006.
While it appears the refurbishing will come in at cost, according to LCC pro Jon Zylstra, the reopening has been delayed.
"The golf course is not ready," Zylstra said. "And we don't have a target date to reopen."
The project has been running behind since the area received 17 inches of rainfall last August and September.
That water played hob with the removal of the concrete cart paths and the construction of new ones.
"All of them had to be torn out and disposed of," LCC course superintendent Brad Minnick said, "and the rain put a damper on that."
Even though the refurbishing of the 92-year-old course is running behind, a handful of the 18 holes are at least close to completion.
One is No. 12 on the far west side of the course. It's an uphill par-five that will play 512 yards from the championship tees. Length, however, wasn't the problem with the hole. The green was.
"It sloped so severely," Zylstra said, "that you were limited where you could place the cup. Most people after they played that green said to blow it up, so we did."
All greens rebuilt
Actually, all 18 greens have been destroyed and rebuilt. LCC was famous (or perhaps infamous) for its postage-stamp greens, and all have been expanded.
Photo Gallery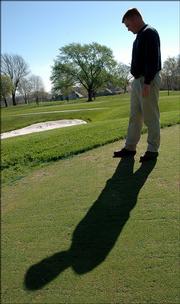 Lawrence Country Club
"But they're still small compared to some of the modern-day courses," Zylstra said.
Moreover, all have also been re-sculpted and, most important, all will have improved drainage.
"In the past, if we had an inch of rain, we'd have to close for the rest of the day," Zylstra said. "Now, we should be able to reopen in 15 minutes."
While most of the greens simply were rebuilt, the No. 9 green was relocated and placed atop a man-made hill several yards northeast of the old green. Fill for that hill came from the new 3.75-acre drainage finger lake dredged into the northwest edge of the course.
That new reservoir will prevent runoff from spilling into the backyards of adjacent homes on Princeton Boulevard and make the course more self-sufficient for irrigation.
"It's the largest private storm-water project in the city," said Chuck Warner, a club member who lives on Princeton Boulevard. "It really collects a lot of water, not only from the course but from Lawrence Avenue."
As high as $65,000
LCC's annual water bill, according to Minnick, has run as high as $65,000. Last year, even with the course shut down in early July, the bill was about $30,000.
"We'll still use some city water," Minnick said, "but that big lake holds 27 days of water if we have a drought."
Another new pond and the expansion of an existing pond near the 18th hole will give the course five additional acres of surface water - more than doubling the previous acreage.
Most of the 130,000 or so cubic yards of dirt excavated for the retention ponds went into a massive berm that separates the No. 10 hole from the course's expanded driving range.
To make the range larger and to add a short-shot practice area, two par-five holes were reduced in yardage and made into par-fours - a decision that cut the overall par from 72 to 70.
Meanwhile, the bunkers, formerly filled with playground-like sand, now contain material so white that the traps look from a distance like pockets of snow.
Many of the fairways, resodded with G-6 bentgrass that replaced the old rye-bentgrass mixture, are close to being ready, but others are still protected with matting.
"I think we've covered all the issues the course had," Minnick said. "You won't get punished anymore for a good shot on the green."
Agronomist on the way
Neither Minnick nor Zylstra feels qualified to determine when the course will be playable, so they have requested an agronomist from the U.S. Golf Assn. to render an assessment in early May.
"An outside expert will be able to tell us what to expect," Zylstra said.
Most likely, it will be late summer at the earliest before LCC members will be able to use their course again.
In the meantime, because of reciprocal agreements, LCC members can play for reduced fees at many area country clubs, including Alvamar CC. Many also are taking advantage of LCC's willingness to pay their greens fees at Eagle Bend, the city-owned course near Clinton Dam.
"We've spent a lot of money at Eagle Bend, about $30,000," Zylstra said.
A primary concern when the decision was made to refurbish the aging LCC course was how it would affect club membership. How many members would leave? And how many new members would be lured by the prospect of playing on the city's most up-to-date course?
Membership to grow
Zylstra reports defections have been minimal and that 65 new names have been added to the membership roll since the overhaul began.
Warner, for one, can't wait until he and the other LCC members receive the go-ahead to tee up.
"I think it will be the premier course in the region," Warner said.
Copyright 2018 The Lawrence Journal-World. All rights reserved. This material may not be published, broadcast, rewritten or redistributed. We strive to uphold our values for every story published.