Chicago — Kansas politicians, businessmen and scientists have turned out in force at a massive international conference for the biotech industry, showcasing economic incentives they hope will lure jobs and capital to the state - and to Lawrence.
"We're here to put a public face on our commitment to the biosciences," said state Rep. Kenny Wilk, R-Lansing, part of the Kansas delegation to the four-day BIO 2006 conference. "And we're here to support Kansas and visit with all the international players."
The conference's aim is to bring together major corporations and government agencies from almost every state and more than 60 countries. Kansas built a giant double-decker pavilion - the top floor has sofa chairs and tables for business conferences - to showcase incentives created by the Kansas Economic Growth Act, passed in 2004 and expected to channel $580 million into the state's biosciences industry.
Gov. Kathleen Sebelius spoke Monday at the conference as one of at least 13 governors to attend.
"While Kansas may be in its earlier stages of growing the biosciences industry, we are proud of our long history of creating a fertile environment for business opportunities," she said.
Lawrence, in particular, could benefit from this convention.
Angela Kreps, president of the Kansas Bioscience Authority, said Kansas delegates came to the conference on a mission to fill the 44,000-square-foot Serologicals facility, built just a couple of years ago in Lawrence's East Hills Business Park but barely used.
"Come to Kansas," Kreps said, imitating her corporate pitch with pictures of the plant in her hand. "Move in tomorrow to a world-class biopharmaceutical manufacturing plant."
Kreps added that a representative of a Tulsa company expressed interest Monday in the property.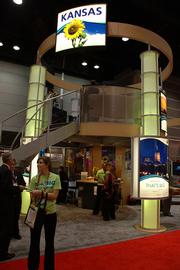 The wining and dining has been intense. Sebelius on Monday served as host for a reception attended by venture capitalists from California, Canada and Japan, Kreps said; Tuesday night, a "tailgate" party featuring legendary Kansas University and Chicago Bears running back Gale Sayers was planned at the state's pavilion. Kansas Bioscience Authority board member Dan Glickman, president of the Motion Picture Association of America, was on hand with other board members.
"We were trying to bring together folks we want to bring to Kansas," Kreps said.
Prashant Vishnu, vice president of sales for Cambridge Technology Enterprises Inc., was one of several Kansas businessmen on hand. The Boston-based company opened a new division in Topeka just two weeks before the convention.
"This is probably the biggest BIO show we've seen," he said, "and Kansas has one of the best booths at the expo. Everyone is so friendly."
Kreps said several business deals had been made at the convention. The president of a private sector company from Kansas, whom Kreps was not prepared to identify, held two meetings with CEOs from other states and was able to close a business deal.
She said at least six venture capitalists met with members of the Kansas delegation Monday and early Tuesday.
It wasn't all business for the Kansans.
"We're here to learn about what other states are doing, too," said state Sen. Nick Jordan, R-Shawnee. "And it's an opportunity for celebration regarding the work our Legislature has done."
The convention ends today. An estimated 18,000 people attended.
Copyright 2018 The Lawrence Journal-World. All rights reserved. This material may not be published, broadcast, rewritten or redistributed. We strive to uphold our values for every story published.