Large-scale fundraising is a fairly new thing at Lawrence Memorial Hospital. But when you're trying to improve nearly every aspect of patient care, it suddenly becomes necessary.
"It's a big step for us," said Kathy Clausing, who serves as chief development officer and vice president of the hospital's endowment association.
A planned $40 million expansion of LMH, Clausing said, has become a necessary step as growth in Lawrence and surrounding areas during the last decade has strained the hospital's resources.
If all goes as planned, the hospital will break ground before the end of this year on several projects to enhance its services, Clausing said.
The planned expansions include a new emergency room, improved surgery facilities, a new maternity ward and remodeled nursing units.
Clausing said the hospital hopes to draw in $8 million for the initial stages of its expansion. The fundraising drive has raised close to $4.6 million, with about 160 requests for donations still in the hands of possible donors.
Most of those requests were sent to prospective donors in the Lawrence area, although the endowment board has expanded to look at the Kansas City metropolitan area, she said.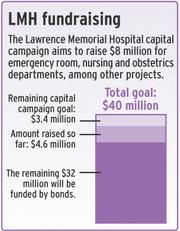 The fundraising also has branched into Baldwin and Tonganoxie, with lofty fundraising goals considering the size of those communities.
For example, the campaign in Baldwin will ask residents - around 3,300 people - to donate $100,000.
"That's a pretty good stretch for us," Clausing said.
But the $8 million is only a sliver of what the hospital hopes to eventually raise for the $40 million expansion. To cover the rest, the hospital will sell tax-exempt bonds.
Clausing views the bonds as a good investment opportunity for residents, and hopes to begin selling them by this summer.
The hospital already has met with developers and architects, trying to nail down the details of the new facilities.
But the fundraising isn't over yet. What if the hospital can't reach its goals?
"We can't think like that," Clausing said. "We believe the community will support the expansion."
More information about the campaign, and how to donate, can be found at www.lmhendowment.org/capitalcampaign.
Copyright 2018 The Lawrence Journal-World. All rights reserved. This material may not be published, broadcast, rewritten or redistributed. We strive to uphold our values for every story published.