In its second year the Kaw Valley Cup boys tournament hosted a record-number 82 teams and over 1,300 competitors this past weekend at Youth Sports Inc. Teams came from as south as Edmond, Okla. and north as Lincoln, Neb. Teams from across Kansas and Missouri competed as well, bringing top soccer competition to Lawrence for the event.
Photo Gallery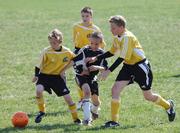 Kaw Valley Cup
"After last year we learned a lot of lessons," KVSA Premier chair Keith Meyers said. "Communication with teams and working with the other soccer clubs helped this year's tournament entry numbers. In some divisions we even had to turn teams away because we were full."
Meyers and his numerous volunteers lucked out with the rain holding off in the days leading up to the tournament and throughout the weekend.
"Temperatures were a bit chilly, especially with the winds on Friday night, but these players are tough," Meyers said.
Meyers acknowledged the hard work of the many Kaw Valley Soccer parents who volunteered to help keep the tournament running smoothly. Local businesses in the area provided sponsorships, helping to make the tournament a huge fundraising success for the soccer club.
"The tournament's reputation is growing because people really enjoy coming to play in the tournament," Meyers said noting the opportunity for the tournament to grow even bigger in years to come.
Copyright 2018 The Lawrence Journal-World. All rights reserved. This material may not be published, broadcast, rewritten or redistributed. We strive to uphold our values for every story published.