Leavenworth — Julie Downes firmly believes that both ends of Leavenworth County Road 1 should be treated equally.
"Most of the traffic is coming from the south," Downes said. "That's what I want - I want both roads to be done at the same time. This isn't the Civil War - it's not the North and the South."
Downes and about 70 other Leavenworth County residents met with Leavenworth County commissioners Monday in Leavenworth. Their purpose: to ensure, if Kansas Turnpike Authority builds a turnpike interchange on County Road 1, that the county road is improved on both sides of the turnpike. The proposed interchange is about eight miles east of the East Lawrence exit, near Tonganoxie.
In January, KTA announced plans to build the interchange on a stretch of road that carries tens of thousands of commuters between Lawrence and Kansas City every day. Lawrence officials, including city commissioners David Schauner and Boog Highberger, have said the interchange could hurt Lawrence - but neither attended Monday's meeting.
KTA's approval depends on a commitment from Leavenworth County to improve three miles of County Road 1 between Tonganoxie and the turnpike
But some area residents, particularly those who live near the planned interchange, say three more miles of the road should be improved - south of the turnpike to Kansas Highway 32.
John Pettingill, who lives near County Road 1, even suggested the county take the improvement farther, edging another three miles south, to the Kansas River just north of Eudora.
Downes said a KTA study showed two-thirds of vehicles using the interchange would come from the south.
"Leavenworth County Road 1 is a narrow, hilly, chip-and-seal roller coaster with steep ravines and no shoulders on much of the route," she said.
She noted the south portion of the road, from the turnpike to K-32, has numerous homes.
"The first mile and a half on the south side is as residential as areas I've lived in in Kansas City or Topeka," Downes said. "There's 23 houses in the mile and a half."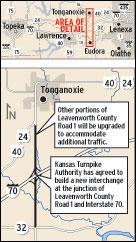 Lawrence, Eudora affected
Chris Dunn, Leavenworth County's director of planning, reviewed the history of the county's push for a turnpike interchange, saying it began in the 1990s.
And, Dunn said, the project is larger than putting an interchange in Leavenworth County.
Dunn showed a Kansas City-area map that speculated about future traffic patterns.
This noted a possible cross-country road that would connect County Road 1 with Kansas Highway 10 - east or west of Eudora. Depending on its route, the road could hook into Gardner, near Interstate 35, or head west to Lawrence.
That would mean constructing a new bridge over the Kansas River, Dunn said. He noted a bridge currently crosses at Eudora.
"They're not going to be able to squeeze it (turnpike traffic) into Eudora," Dunn said. "It's going to have to go either east or west of Eudora."
Commission chairman Dean Oroke was among officials who traveled to Washington, D.C., this year to lobby for funds to improve roads.
It's expected Congress will announce federal highway funding in June or July, he said.
After the meeting, Commissioner Clyde Graeber said he wasn't sure whether Monday's meeting resolved anything.
"I think it is important though," Graeber said. "I want to at least send our people out to County Road 1 to have it looked at - what can we do to improve the safety if possible - if not, maybe we need to look at it more."
County Road 1
Copyright 2018 The Lawrence Journal-World. All rights reserved. This material may not be published, broadcast, rewritten or redistributed. We strive to uphold our values for every story published.