Dallas — Tens of thousands of people banged drums, waved U.S. flags and marched in a protest Sunday urging federal lawmakers to pass immigration reform that would legalize an estimated 11 million undocumented workers.
Shouting "Si Se Puede!" - Spanish for "Yes, we can!" - the marchers crammed into the downtown streets. They included families pushing strollers with their children and ice cream vendors who placed American flags on their carts. Many wore white clothing to symbolize peace.
Police estimated the crowd at 350,000 to 500,000. There were no reports of violence.
It was among several demonstrations that drew thousands of protester Sunday in New Mexico, Minnesota, Michigan, Alabama, Utah, Oregon and California.
"If we don't protest they'll never hear us," said Oscar Cruz, 23, a construction worker who marched among the estimated 50,000 in San Diego. Cruz, who came illegally to the U.S. in 2003, said he had feared a crackdown but felt emboldened by the large marches across the country in recent weeks.
Earlier struggles
In Birmingham, Ala., demonstrators marched along the same streets where civil rights advocates clashed with police during the 1960s and rallied at a park where a statue of Martin Luther King Jr. stands as a reminder of the fight for equal rights and the violence that once plagued the city.
"We've got to get back in touch with the Statue of Liberty," said the Rev. Lawton Higgs, a United Methodist pastor and activist. "We've got to get back in touch with the civil rights movement, because that's what this is about."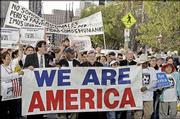 The rallies also drew counterdemonstrators.
In Salt Lake City, Jerry Owens, 59, a Navy veteran wearing a blue Minuteman T-shirt and camouflage pants, held a yellow "Don't Tread on Me" flag.
"I think it's real sad because these people are really saying it's OK to be illegal aliens," Owens said. "What Americans are saying is 'Yes, come here. But come here legally.' And I think that's the big problem."
Sunday's demonstrations come ahead of nationwide protests set weeks ago for today, a signal that what began as a string of disparate events - attracting tens and even hundreds of thousands of people - has become more coordinated.
"We don't have a leader like Martin Luther King or Cesar Chavez, but this is now a national immigrant rights movement," said Joshua Hoyt, director of the Illinois Coalition for Immigrant and Refugee Rights, which has helped organize Chicago-area rallies.
Mobilizing voters
Activists say the Senate's decision last week not to push a bill that would have given many illegal immigrants a chance at citizenship is neither a cause for celebration nor a lost opportunity - for now it's just a chance to regroup.
And that's what they plan to do at demonstrations from Florida to Oregon that include school walkouts and marches in major cities.
Religious groups nationwide have been coordinating the protests in recent weeks, along with dozens of unions, schools and civil rights organizations.
Different organizers have different agendas, but they do agree on the need to convert energy from protests into massive voter registration drives.
Voter registration and citizenship education initiatives are set to begin in several states after a "Day Without An Immigrant" campaign planned for May 1, an event that asks immigrants nationwide to stay home from work and school, and refrain from buying U.S. products.
"Marches will only get you so far," said Armando Navarro, coordinator of the National Alliance for Human Rights, a network of Hispanic activist groups in Southern California. "There has to be an electoral component to get the Republicans out of the majority."
Copyright 2018 The Associated Press. All rights reserved. This material may not be published, broadcast, rewritten or redistributed. We strive to uphold our values for every story published.