Washington — It wasn't easy to sign up, but now that she's enrolled in the new Medicare drug benefit, Ruth Dike says it's made a big difference in her finances.
The cost of her medicine ranges from about $10 to $15 a month, she says, versus at least $100 a month before she joined.
"It's just a relief that I can buy the medications I need without having to worry how I'm going to pay for them," says Dike, 74, of Casper, Wyo.
Congressional supporters of the program worry that the problems that marked its beginnings have drowned out success stories such as Dike's.
Dike said the enrollment process was horrendous. Her friends had the same problem.
"None of them could do it themselves," she said.
She enrolled with the help of the local senior center and now spends between $2 and $5 for each prescription. She takes medicine for high blood pressure, arthritis, an ulcer and her thyroid, and she uses a potassium supplement. By year's end, she estimates she will have saved about $1,000.
Her story fits the profile that Republican lawmakers and some advocacy groups have stressed in recent weeks.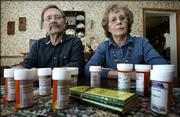 Once older people enroll in one of the drug plans offered, about three-quarters of those beneficiaries say they are satisfied, according to Medicare Rx Education Network. The organization includes patients groups such as the Alzheimer's Assn. and trade associations representing insurers and drug makers.
Most of the calls that lawmakers get from constituents about the drug benefit still come from people who complain. But Max and Donna Dougherty of Bedford, Iowa, contacted Sen. Charles Grassley, R-Iowa, to let him know they liked the program.
"I was listening to the Democrats complain about this and calling it a joke. And some of the Republicans were saying it's a money pit," Donna Dougherty said. "I'm hear to tell you this is a godsend for us."
She said that choosing a drug plan was easier for them because the local pharmacy would contract with only one of the insurers offering prescription drug coverage.
Her husband is recovering from lung cancer, had a kidney transplant and has heart disease, so he takes numerous prescriptions. She estimates the benefit will save the couple $300 to $350 a month.
Health and Human Services Secretary Mike Leavitt estimates that the average beneficiary will save about $1,100 because the government is subsidizing their drug purchases. The savings depends on the patient's drug needs and the plan they choose. Some beneficiaries may actually end up paying more for their drugs when including a deductible and monthly premiums.
Copyright 2018 The Associated Press. All rights reserved. This material may not be published, broadcast, rewritten or redistributed. We strive to uphold our values for every story published.