Maybe the city has enough shoe stores. Maybe a new shoe store that wants to locate on the west side of town would cause other shoe stores in the city to go out of business.
Under a proposed set of regulations that planners will consider approving this month, city commissioners would have broad new authority to reject plans for particular types of businesses that would offer competition to existing businesses.
For some, the proposed policy is being hailed as a way to protect the city's valuable, but fragile, downtown.
"I have heard it said that downtown Lawrence is the envy of a 10-state area," said John Haase, a member of the Lawrence-Douglas County Planning Commission and an author of the policy. "The reason we still have a strong downtown is because some strong-willed folks resisted a mall being built south of Lawrence. They resisted the 700 block of downtown being leveled to create an enclosed mall.
"Historically, Lawrence has taken care to preserve its downtown."
This new proposal - up for debate at the Planning Commission's April 19 meeting - would be in that same vein, Haase said. But others see it as a government-imposed damper on the American dream.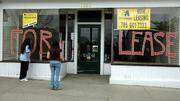 "How we approve business in this town is getting to the point that if you want to be in business, you have to go to the governing body and ask if I can be in this particular business," said Brian Kubota, a Lawrence developer and private land-use planner. "That's really concerning to me. We could create a whole set of economic problems for this city."
How it works
The proposed policy would be an addition to the city's recently approved Development Code, which replaced the city's 40-year-old zoning code.
As it is written currently, the addition would require a two-part study of new retail developments - everything from shopping centers to a single retail store - of at least 50,000 square feet:
¢ An independent consultant hired by the city must show the new project would not push the city's overall retail vacancy rate above 8 percent.
¢ A review of sales tax data from a yet-to-be created city database must show the city doesn't already have more of a certain type of proposed store than the city can support. That determination would be made by comparing Lawrence's per capita spending in each retail category with national benchmarks. If an oversupply of stores was found, commissioners could tell the developer of a shopping center those types of stores would not be allowed.
-->
Members of the development community have problems with both parts of the new policy.
Several developers and real estate professionals have said the vacancy requirement doesn't take into account how highly dependent retail stores were on being in the right location. In other words, if a shopping center in an older, less vibrant section of town has a high vacancy rate, that shouldn't affect the ability of developers to build a center to serve a growing area of town.
But Haase said communities had a valid purpose in trying to limit their retail vacancy rates. If large portions of shopping centers, for instance, remain vacant for extended periods of time, blight will begin to set in, creating problems for government.
"What we know is if market forces are the only thing allowed to prevail, you end up with a situation like Topeka," Haase said. "In the course of all the development that unfolded, downtown Topeka really suffered dramatically."
And others are reminding people that the public has invested significant amounts of tax dollars into downtown. Government, they say, has a responsibility to protect that investment.
"I don't think there is any effort to hold anybody hostage here," City Commissioner Mike Rundle said. "But we are trying to protect our public investment."
Opponents, though, counter that downtown Lawrence has thrived without these specific regulations.
"It seems like we already have the tools we need to protect downtown," said Kelvin Heck, a broker with the Lawrence commercial real estate firm Grubb & Ellis/The Winbury Group.
Free market concerns
Developers say the proposal also greatly hampers the free market.
"The competitive spirit would be completely eliminated," said Kubota, who is trying to develop property near Sixth Street and the South Lawrence Trafficway. "I think you are really playing with fire here. Once you start imposing on the free market with legislation, complacency will set in. People who are in business will not improve their prices, will not improve their customer service. Competition is what makes you do all of that."
Haase, though, said he doubted that was how it would work. He said the proposal would give commissioners the ability to limit uses based on sales tax data, but it did not mandate they do it. City commissioners always would have the ability to approve a project, especially if there was evidence that a particular sector of the retail market wasn't meeting the needs of the community, Haase said.
"It is not like we are passing a constitutional amendment that says they would never be allowed to come into the city," Haase said. "We certainly want to make sure that retail demand is being met."
Balancing act
In fact, Haase said he thought the database of sales tax information would be more useful in helping the community attract new businesses than keeping them out.
For instance, he said if the data showed the community was behind the national averages in certain retail categories, then planners could be attentive to ways to help attract those businesses.
And as far as using the policy to limit new businesses, Haase said he didn't think planners would choose to use the data to micromanage the retail economy. Instead, he said the information likely would be used only to evaluate large projects that could have significant immediate effects.
"If Dillard's were proposed for the west side of Lawrence, I think that would trigger a very serious review," Haase said. "It could affect Weaver's (Department Store) ability to remain viable. As a community, we would really need to talk seriously about that."
Currently, the city would have to rely only on anecdotal evidence to make such a decision because it doesn't have a sales tax database, such as the one that would be created under the proposal.
The proposed changes - which ultimately must be approved by city commissioners before they would take effect - likely will spark significant debate among planning commissioners at their April 19 meeting.
Planning Commissioner Dennis Lawson said the broad goals of protecting downtown and other retail areas were admirable, but he said the proposed policy seemed risky. If government's protection goes too far, it could cause shoppers to leave for Kansas City or Topeka in even greater numbers than they do today.
"People in the community know what they want to buy," Lawson said. "And they certainly will find a venue that is to their liking to satisfy their needs.
"Trying to outguess the market can be risky business. If we guess wrong, it could cause people to go somewhere else to shop."
Copyright 2018 The Lawrence Journal-World. All rights reserved. This material may not be published, broadcast, rewritten or redistributed. We strive to uphold our values for every story published.