Kansas University's tennis squad ended at least one of No. 8 Baylor's current streaks.
But it wasn't the Bears' eight-match winning streak. Baylor beat the Jayhawks, 6-1, Sunday at Robinson Courts.
However, thanks to Edina Horvath winning the No. 5 singles match, 6-3, 7-6 (4), over Iva Mihaylova, the Jayhawks brought an end to Baylor's five-match sweep of singles matches.
"They're not ranked in the top 10 in the nation for nothing. They are a very competitive team and a very aggressive team, but I felt that our girls came out and played very well today," Kansas coach Amy Hall-Holt said.
Horvath ended Baylor's singles sweep and extended her own streak, winning her ninth consecutive singles match.
Horvath also paired with Lauren Hommell for KU's only victory in doubles, defeating Baylor's Mihaylova and Daniela Covello, 8-7 (3).
"I've never played against such a good team, but I think they aren't that much better than us," Horvath said.
While Horvath extended her winning streak, Elizaveta Avdeeva's 11-match win streak and senior Christine Skoda's six-match winning streak ended.
Avdeeva lost 6-2, 6-4 at No. 2 singles, and Skoda fell, 7-5, 7-6 (6), in her final home match as a Jayhawk.
Photo Gallery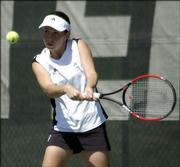 KU tennis vs. Baylor
"I went out there and played as hard as I could, and I'm happy about that. It's better to play well, even if we lose," KU's lone senior said. "I'm just happy with how I'm playing right now. That's important to keep playing the way I have been playing in the matches to come. If I keep playing like this, I feel like I can win these matches."
Hall-Holt said she wasn't discouraged by the loss to the top-10 opponent.
"I think it ups their level of play, and they know we're not that far behind these schools. But we've got to continue working hard and competing hard," the KU coach said.
Skoda shared her coach's feelings.
"It was really important to play them and see them. Even though we lost most of the matches, every single match was close," Skoda said. "Just seeing that we can compete with top-10 teams means that we can beat top-20 teams. So it really helped with going into the Big 12 Conference tournament and possibly the NCAAs."
The Jayhawks will finish the regular season on the road, with the first of their final three matches taking place Saturday against Colorado.
Copyright 2018 The Lawrence Journal-World. All rights reserved. This material may not be published, broadcast, rewritten or redistributed. We strive to uphold our values for every story published.