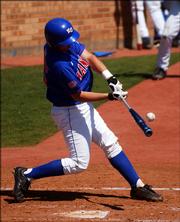 The Kansas University baseball team snagged another Big 12 Conference series over the weekend, and did so exactly the way it couldn't in past years - strong starting pitching, a setup man to shut the door and a closer to deadbolt it and start the celebration.
Kansas beat Texas Tech, 5-3, at Hoglund Ballpark on Sunday and won two of three from the Red Raiders over the weekend. Kodiak Quick went 52â3 innings, left with his team ahead, and watched as Paul Smyth and Don Czyz didn't allow anybody past first base in the last 31â3 innings.
Quite a change from the ping-powered teams that dominated Ritch Price's first three years as the Jayhawks' coach.
"I'm really proud of our pitching," Price said. "Until we get all of our players back offensively and click on all cylinders, our pitching's been carrying us."
Quick exited Sunday's game in the sixth still clinging to an opportunity for his sixth win, and the bullpen secured it. Smyth retired all four batters he faced, and Czyz allowed three scattered singles that ultimately meant little. Czyz picked up his 12th save of the season, a new Kansas record, and his 112th career appearance set a Big 12 mark.
"Donnie," Price said, "has been the man all year for us."
He has needed to be. With KU missing big bats like Ryne Price and Jared Schweitzer because of injury, the Jayhawks are trying to get by with what offense they have.
On Sunday, KU plated single runs in the first three innings thanks to an RBI groundout by Gus Milner, an RBI double by Dylan Parzyk and an RBI single by John Allman. The deciding two runs, however, came in the fifth, when Milner stroked a hit-and-run triple that scored Matt Baty from first and then crossed home on an RBI single by Preston Land.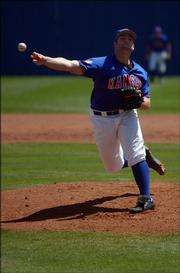 "We can't score 15 runs a game," Milner said. "We'd like to, but each team's got good pitching. We got guys on base and had some guys clutch up with some good hits. Mostly, everybody had productive outs, which was key in this game."
Quick, meanwhile, fought off the aggressive Red Raider bats, striking out six and allowing six hits on the day.
Kansas now stands 22-13 overall and 6-6 in Big 12 Conference play and leapfrogged Tech (23-13, 5-6) into the top half of the conference standings. It's the first time the Jayhawks have been .500 in league play this late in the season since 1997.
More importantly, each victory puts Kansas closer to an NCAA regional berth - something Kansas hasn't secured since 1994. A midweek series with North Dakota State is on tap Tuesday, and each little step could be big toward postseason aspirations.
"Right now, we're in the NCAA Tournament hunt," Price said. "But we have to continue to win the weekday games to make it as well."
Copyright 2018 The Lawrence Journal-World. All rights reserved. This material may not be published, broadcast, rewritten or redistributed. We strive to uphold our values for every story published.