Augusta, Ga. — Fred Couples' turn-back-the-clock weekend ended Sunday at the Masters.
The irony is that it was not his driver or long irons that deserted the 46-year-old on the lengthened Augusta National layout. Paired with Phil Mickelson in the last group of the day, Couples hung with the younger Mickelson from tee to green.
It was Couples' putter that prevented him from putting the heat on Mickelson and ended his bid to become the oldest champion in the 70-year history of the tournament.
"I don't really feel 46. I didn't hit the ball like I was 46," Couples said. "I putted like I was 66."
Couples had three costly three-putts en route to a 1-under-par 71. The Californian finished in a five-way tie for third at 4 under, three strokes behind Mickelson's winning total and a shot behind runner-up Tim Clark.
Twenty years after Jack Nicklaus made history by winning his sixth Masters at 46, Couples took a run at the Golden Bear's mark. Had he won, Couples would have been three months and 18 days older than Nicklaus was in 1986.
Couples, who won the 1992 Masters, also would have broken Gary Player's record for most years between green jackets. Player went 13 years between Masters victories in 1961 and 1974.
Photo Gallery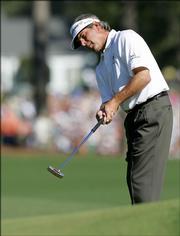 Masters
That he has made the cut at each of his 22 Masters appearances, one shy of Player's record, was little solace to Couples.
"It's my favorite tournament, so I spend a lot of energy getting ready for this," Couples said. "And this cut deal, it's a great deal. But I don't want to make the cut and finish in 40th place. I want to have a shot at being up with the leaders."
Which is precisely where Couples stood Sunday afternoon after finishing the 13 holes from Saturday's rain-shortened third round. After loosening up his balky back on the first tee, Couples began the final round a stroke behind Mickelson.
Couples wore a white visor and white shirt. Mickelson was in all black for what might have been one of the friendliest, final-day pairings at a major.
"I just think he's really a terrific person as well as a great player," Mickelson said. "And I really enjoy being around him."
The two chatted amiably between shots, even after Couples' birdie on the first hole pulled him even with Mickelson. The two were deadlocked through the first seven holes until Couples three-putted for par at the par-5 eighth and fell a stroke back.
After another three-putt at No. 11, Couples birdied No. 13 to get back within two shots of Mickelson.
But Couples' championship hopes all but died on the par-4 14th when Couples again three-putted after sticking his approach shot four feet from the pin.
Couples said he tried to "ram" the putt to avoid the break and slid it five feet past the cup.
He later called the missed birdie opportunity a "killer."
"That really is a putt where it would have been a heck of a lot more fun to make and see what would have happened," he said.
The bogey also interrupted the friendly banter between Mickelson and Couples.
"I quieted down our talk there for about ten minutes," Couples said.
"I don't think he wanted to get near me."
By the final hole, Couples and Mickelson were smiling and talking as they made their way up the 18th fairway. Had he drained a putt or two, Couples' walk up 18 could have been one for the ages.
"I'm disappointed, but I like the way I played and it was a lot of fun," he said. "I'm certainly tired now. But I made it through 31 holes and hung in there a long time."
Copyright 2018 The Lawrence Journal-World. All rights reserved. This material may not be published, broadcast, rewritten or redistributed. We strive to uphold our values for every story published.