Lawrence may be a no-smoking town, but light up a cigarette in Rus Spangler's new shop at the edge of western Lawrence and the worst punishment you'll face is a give-me-a-break glare and a curt word or two.
"Um," he'll say, looking up from behind the counter, "do you really have to do that here?"
But if you're willing to upgrade to a cigar, and pay a daily fee or sign on for a membership, Spangler will escort you back to the only legal smoking hall in Lawrence: Club Centro, where visitors lounge in leather chairs, listen to vintage music and soak up the freedom to light up without a whiff of worry from the law.
As part of a retail tobacco shop, the place is exempt from a city ordinance that has snuffed out smoking in all other businesses and public gathering places in town.
"As a place for people that can't smoke at home, want to smoke somewhere inside with other people that smoke, and talk or watch some music or a golf game or something like that, it's a natural," Spangler said.
Photo Gallery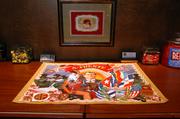 Centro Cigars
Spangler and his business partners - his brother Rich Spangler and their friend Rick Woodbridge - see plenty of opportunity in the lounge and the Centro Cigars shop that enables it.
Centro Cigars, with more than 2,000 cigars in stock, opened in January at 1520 Wakarusa Drive, in a shopping center that already is home to a sports bar and grill, a liquor store, another small bar and an upscale pet-washing shop. The center is adjacent to Brandon Woods Retirement Community, a short walk from an incoming $50 million upscale condominium project and a few solid 3-woods away from Alvamar's public and private golf courses.
Rich Spangler knew the location would work. He managed Diebels Sportsmens Gallery in Overland Park for six years before teaming with his brother, pooling financing from their father's estate and joining Woodbridge to make a go of it on their own.
"It's a college town, and it's an affluent town," Rich Spangler said. "There's a big variety of people that do live here, from students to millionaires. And it was the perfect size town to do it in."
The shop is split into three sections:
¢ A gift shop, with upscale items ranging from Surefire flashlights to Atwood knives and Cuban-style guayabera shirts.
¢ A walk-in humidor loaded with cigars ranging from Quorum Coronas for $1.30 each to the Cohiba Toro, which goes for $15. The humidity level for air inside the sealed room lingers at an optimum 70 percent.
¢ Club Centro, in the back, with polished concrete floors, leather furniture and a 50-inch high-definition TV to entertain members. But the key is the club's storage areas: 22 humidified lockers, so that members can preserve their own cigars - even Cubans - for personal use, and overhead cabinets for members to stash their own scotch, brandy, Madeira or other spirits they might like to have around.
Centro Cigars
The club's two dozen members thus far include Lew Perkins, Kansas University's athletics director, and Josh Davis, a derivatives trader who's settled in Lawrence after being displaced from Mississippi by Hurricane Katrina.
"This is absolutely top notch : and I'm amazed it's here in Lawrence," Davis said, lighting up a St. Louis Rey before settling into a lounge chair last week. "I'm glad there's an exception in the law."
Copyright 2018 The Lawrence Journal-World. All rights reserved. This material may not be published, broadcast, rewritten or redistributed. We strive to uphold our values for every story published.