The Rev. Denise Hygh fought off multiple myeloma, a very rare blood disease, for almost 10 years.
The pastor at Central United Methodist Church, 1501 Mass., died Thursday after another bout with liver cancer.
When she first started at the church in 2004, she was known as a pioneer in ministry and believed to be the first black woman pastor in Lawrence.
But Hygh was accustomed to leading a predominantly white church after her stints at the First United Methodist Church in Independence and Lenexa United Methodist Church.
In September 2004, Hygh told the Journal-World how she viewed her job.
"I don't look at it (the ministry) in terms of race. It just always turns out that I am 'the one.' I look at it as an opportunity to serve, to be God's instrument of peace and love," Hygh said.
Church member John Ruckman said Hygh helped the congregation adjust quickly.
"It took us all of about a week that that faded away and her personality took that over," Ruckman said.
Hygh's friendliness and her strong work ethic were also evident in her days at the church.
"She was a real burst of energy," Ruckman said. "Not any one specific issue that she did sticks out, but she was behind everything that we did."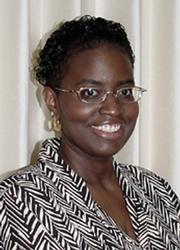 The Rev. Gayla Rapp, of the Wesley KU United Methodist Campus Ministry, moved to Lawrence about the same time Hygh did. The two leaned on each other, and Rapp came to know Hygh's enthusiasm for helping and conversing with others.
"When she came into a room, she reached out to people and hugged people," Rapp said.
Rapp also described Hygh as a person of deep Christian faith with "concern for the oppressed and compassion for all people."
Shortly after they met, Hygh asked Rapp to drive her to the Kansas City area for a cancer treatment. The treatment left Hygh groggy. A nurse had instructed Rapp to let Hygh take it easy for the rest of the day, but Hygh refused.
"I remember thinking then that it is just a statement about who she is. She is just full of life. She was a life force," Rapp said.
Rapp has filled the pulpit for Hygh at the church since Feb. 1, and the church members gathered at noon Thursday for a special service.
Hygh's son, Anthony, is a student at Baker University. She is originally from the New Orleans area and earned a master's of divinity in 1998 from St. Paul School of Theology in Kansas City, Mo.
Copyright 2018 The Lawrence Journal-World. All rights reserved. This material may not be published, broadcast, rewritten or redistributed. We strive to uphold our values for every story published.