Augusta, Ga. — For all the dread that Augusta National went over the top with its latest round of changes, the Masters sure looked familiar on Thursday.
The star power came from Vijay Singh, a towel slung over his shoulder, making three birdies on the six holes that were lengthened as he carved out a 5-under 67 for a one-shot lead.
"This is probably one of the better rounds I've played out here," Singh said.
The surprise - there is always one of those the first day at the Masters - came from Rocco Mediate, a put-up-or-shut-up kind of guy who put up four birdies for a 68 and his best start in this tournament.
"The Masters tournament sets up their golf course exactly how they want to set it up, because it's their tournament," he said. "If you don't want to abide by what they do, don't come."
Arron Oberholser played the role of the Masters rookie with no expectations, especially not a 69 in his first round. The sentimental favorite was Ben Crenshaw, whose 71 was his best score on this course since he closed with a 68 to win the Masters in 1995.
And defending champion Tiger Woods?
No change there. He still hasn't broken 70 in the first round, although it was entertaining as ever, especially going from an eagle on the par-4 14th to a double bogey on the par-5 15th and finishing with a 30-foot birdie that left him at 72.
So much for the sky falling.
If anything, it was filled with sunshine, and that might have been the biggest change of all.
"It's very warm right now, and the ball is going a long ways," Singh said. "Better not say that too loud; maybe they will move it back 50 yards next year."
In his office overlooking a super-sized golf course, Masters chairman Hootie Johnson must have been smiling.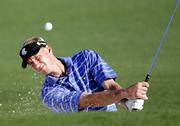 Johnson heard plenty of criticism in the days leading up to the Masters, particularly the extra length on the par-3 fourth (240 yards), the tree-lined seventh (450 yards) and the frightening 11th hole, which measures 505 yards and has a dozen more pine trees planted down the right side of the fairway.
Singh had a simple two-putt from just off the back of the green at No. 4, hit 7-iron into 20 feet for birdie on the seventh and made one of only two birdies - Mediate had the other - on No. 11 by carving a 5-iron around a tree and into 10 feet.
The result was a one-shot lead and a shot of confidence he badly needed - he hasn't won since August.
"I don't know if it was easier," Singh said. "I think the golf course was pretty tough from the get-go. If you don't hit good shots, you're going to make a number out there."
And there were plenty of those.
A dozen players, young and old, couldn't break 80, and at least eight players had their worst score ever at the Masters, including David Duval (84), Mark O'Meara (81) and Mark Calcavecchia (80).
Only three players broke 70, and 15 others were under par. But the scoring average for the first round - 74.94 - was a fraction of a stroke lower than the previous two years.
"I don't think anybody will be unhappy with the way the course played today," Retief Goosen said after a 70, joined by Phil Mickelson, Tim Clark and Geoff Ogilvy.
It wasn't so tough that it drained the drama. The 12 eagles in the first round were one short of the record set in 1991.
And for those who feared the changes catered to the big hitters, hold that thought.
Helped by sunshine rarely seen at this tournament the last five years, the fairways were firm and fast, inviting a wide range of players into the fold. Length off the tee was helpful only if the tee shots stayed out of the trees.
Mediate, Oberholser and Clark have medium length, while Crenshaw is short even by senior standards. They were mixed in with the power games of Singh, Goosen, Mickelson and Ogilvy.
"For the medium to shorter hitters, we need those fairways to be firm," Clark said. "And that's what they were today. It almost felt like the way it played a few years ago, when Mike Weir won when it really was wet."
If there was a discernible difference, it might have been long periods of silence while so many players battled for par.
"One hole, you could hear the birds singing away, like there's nobody on the course," Goosen said. "It's definitely a lot quieter out there than you normally hear around Augusta, besides the one big cheer we heard. And we obviously all knew that was Tiger."
That was about the only cheer for Woods.
He struggled from the start with two three-putts on his first four holes - one to make par, another bogey - and avoiding three others with testy, 5-foot putts. His fortunes appeared to change when he hit 8-iron from 163 yards on the 14th hole that landed soft enough to trickle into the cup, his first eagle on a par 4 at the Masters.
But his momentum was doomed when he laid up on the par-5 15th short of the water, and found his ball in a deep divot. He tried to smother a sand wedge, instead, caught it fat and watched it drop into the middle of the pond, leading to double bogey.
"All in all, I thought I could have got under par today, but it just didn't happen," Woods said.
It might not get any easier.
The greens already had a yellow sheen and were getting crusty. And with wind in the forecast for today, there was a feeling that Augusta National was at its tamest.
"It's a major championship. It's supposed to be brutal," Mediate said. "And it will be brutal. But it's not brutal yet."
Even Crenshaw was ready to concede.
On the 20-year anniversary of Jack Nicklaus' last green jacket, can a 54-year-old win the Masters? That was the cue for Crenshaw to wag his finger and say, "I have a good feeling about this," as he did while captaining the Ryder Cup team at Brookline in 1999.
"Doubtful," he said, laughing. "I've had my time here."
The last time was in 1995, when he was a pallbearer at the funeral of longtime teacher Harvey Penick at the start of the week, and he was wearing a green jacket at the end.
The emotions this week might lie with Woods, whose father could not travel to Augusta for the first time because of cancer that has spread throughout his body.
"I know it's difficult for him," Crenshaw said. "I'm sure he's thinking about it every second. But he's got a job to do. Sometimes, you do things that you don't think you're capable of doing."
Woods said he didn't speak with his father before the round.
"I had enough to worry about," Woods said, "trying to get out there and hit a shot."
Copyright 2018 The Lawrence Journal-World. All rights reserved. This material may not be published, broadcast, rewritten or redistributed. We strive to uphold our values for every story published.