Vines are a necessity in most gardens.
They can be used to cover unsightly objects like air conditioners and gas meters, or, more artistically, to create "green walls" in a garden. They're great formed into archways that introduce a new area.
The vertical aspects of a garden never should be overlooked because they help guide the eye to other features in the landscape.
Of all the vines, Lawrence gardener Jan Erland says clematis is her favorite.
"(It's) always a show stopper," she says. "I have grown them in the past to cover the unsightly 'legs' to an upper-level deck. The purple flowers reached up to the deck itself to bloom and say 'hello.'"
But vines needn't just be a vertical accessory. In fact, many gardeners are anti-grass, preferring vines as an attractive ground cover. The best part: no mowing, which frees up more outdoor time for more leisure.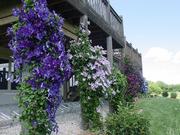 One of the more popular vines in the Lawrence area is the clematis. A member of the buttercup family, its name is derived from the Greek word for "vine." The enormous allure of the clematis vine is obvious when you see those dinner plate-sized blooms glowing in the sun.
Many qualities make clematis a tough vine to pass up in Kansas gardens. The flowers bloom in a huge variety of shapes, sizes and colors on many types of foliage from spring until fall. Clematis is a hardy plant, although it can be difficult to establish. But once it takes root, a clematis vine can survive 25 years or more in the right conditions.
Those conditions? Most clematis prefer at least six hours of direct sunlight a day, good air movement around the plant and roots that stay cool. Mulching is an excellent way to cool the feet of a clematis, but planting it under a bed of vinca or another ground cover produces the same results.
Clematis tips
Scott Wisdom, an employee at Sunrise Garden Center, 1501 Learnard Ave., and an avid gardener, grows the following varieties of clematis: ¢ For color: Villa de Lyon, Perle d'Azur ¢ For uniqueness: Belle of Woking (double bloom), Purpurea Plena Elegans (double bloom) ¢ For fragrance: Betty Corning ¢ Non-climbers: Integrifolia, C. heracleifolia
Most clematis need something to twine up, and they may need some assistance heading for the sky. The clematis climbs by way of twisting petioles, which generally require a thin fish line or string to grasp onto. Try threading a thin material onto an existing arbor, trellis or lattice work to ensure the upward mobility of clematis.
The tricky hiccup to growing clematis is knowing which type you have and when it's supposed to be pruned. Although pruning is not a must, it does improve the number of blooms and their locations. And, after all, that's why we grow clematis - the blooms!
Clematis come in three groups:
Group A (early-flowering clematis): This group begins blooming in April and May. It's best to prune Group A soon after the blooms have faded but no later than the end of July. This will allow new buds to form for the next season. You will want to remove shoots that have bloomed but stay clear of pruning the woody trunks. Generally speaking, clematis that does not die back in the winter and blooms early in the spring is probably in Group A.
Group B (large-flowering hybrids): These big guys usually grow 10 to 12 feet tall and begin blooming in mid-June on short stems from the growth of the previous season. If you have clematis with double blooms and/or one that's a re-bloomer later in the season, it is most likely a Group B clematis. They tend to perform well on fences, trellises and covering items. It's best to prune these types now, in March or very early April, by removing dead and weak stems completely and trimming remaining stems to the topmost part of the large, green buds.
Group C (late-flowering clematis): This grouping blooms on the past 2 or 3 feet of current growth and tends to be the easiest to prune because it doesn't maintain old wood. Members of this group should be trimmed in March or early April by cutting each stem to about 2 feet tall.
The best place to cut in any of the groups is directly above two healthy buds.
If you're unsure to which group your clematis belongs, watch it bloom and take note of when it's in full color. Then observe whether it blooms on woody stems from last year or on green flexible new wood. Once you've answered these questions, you can usually place your clematis.
Copyright 2018 The Lawrence Journal-World. All rights reserved. This material may not be published, broadcast, rewritten or redistributed. We strive to uphold our values for every story published.