Boston — Maryland's players celebrated on the court, laughing and hugging and bouncing up and down.
Never mind they still had overtime to play.
"What a better way to win a national championship than in overtime, "Terrapins forward Marissa Coleman said, "which was our time all season long."
Too young to fear the pressure and too experienced to succumb to it, the Terrapins won their first NCAA women's title Tuesday night, coming back from a 13-point deficit to force overtime and beat Duke, 78-75.
Freshman Kristi Toliver hit a three-pointer at the end of regulation, then made two free throws with 35 seconds left in overtime to give Maryland the decisive lead.
Maryland (34-4) is 6-0 in overtime games this season. It was the first time the title was determined in overtime since Tennessee beat Virginia in 1991.
Toliver's three-pointer at the end of regulation sent the Terrapins into a frenzy and deflated the Duke bench. But the real party came after Blue Devils guard Jessica Foley's desperation, well-covered three-point attempt nicked the front of the rim at the overtime buzzer.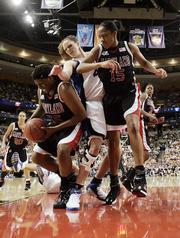 Piling up on the court, hugging and bumping chests, the Terrapins reveled in the youth that had been the biggest doubt surrounding them coming into the tournament. Even coach Brenda Frese, who was the coach of the year at 32 and a national champion at 35, is on the precocious side.
Foley made two free throws with 18 seconds left in regulation to give Duke a 70-67 lead, then Frese called timeout to set up a play.
Toliver brought the ball down and veered to the right. With Duke's Alison Bales in her face and 6.1 seconds left, she lofted the three that would spark the first of the Terps' two celebrations.
"And I even felt her fingertips as I was holding my follow through," Toliver said. "So, she did a great job contesting. I just had a lot of confidence. And I knew I wanted to take the big shot so I just took it."
Duke (31-4) opted not to call a timeout; Lindsey Harding brought the ball down the court and put up a desperation leaner from the right baseline that went off the rim. After that, the usually frenetic Frese just let her players take over.
"I didn't have to say a word," the coach said.
Copyright 2018 The Associated Press. All rights reserved. This material may not be published, broadcast, rewritten or redistributed. We strive to uphold our values for every story published.