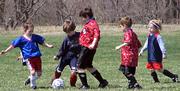 A cool breeze and bright sunny weather, plus plenty of points on the scoreboard, made for a perfect day at the Youth Sports Inc. soccer fields on Saturday for the Kaw Valley Soccer Association's opening weekend of the spring season.
Boys and girls from the Blue and Red teams in the 7U division got plenty of action in their shootout, but it was the Blue team that broke the tie with a late goal to win, 10-9.
The Red team gained the early advantage when Cameron Stussie drove the ball into the goal. While Stussie scored a hat trick Saturday, he said his first goal was his favorite.
"My first goal meant a lot to our team to score first," he said.
Not to be outdone in the first few minutes, the Blue team rebounded from Stussie's goal with a score of its own. Owen Kapfer dribbled in from behind as Red defenders stepped away from the scoring box and he slammed home one of his six goals he would score in the game.
The Blue team continued its offensive output, adding a second goal moments later to take the 2-1 advantage. Coaches both teams kept their players fresh as the up-and-down pace saw continual substitutions.
The Blue team's lead didn't last for long.
After the Red tied the game on a shot, Stussie sunk another goal after his team's first attempt was deflected.
A goal mix-up caused the Red team to think they scored a goal when it was really the Blue team's tally. The whole situation served as a source of entertainment for the Blue team.
"My favorite part of the game was when they (the Red team) thought it was their goal, but it was really ours," Oisin Thompson said.
After the confusion the Red team responded with another score, but the Blue came back to cut the contest to 5-3 at halftime.
The second half was filled with eight more goals. The Blue team closed its deficit to one, when it opened the second half with a score.
Stussie added another goal along with three more tallies from his teammates, but the Blue team kept it close with both teams knotted at 9 goals apiece in the waning minutes of the second half. One late goal pushed the Blue team ahead to record the win.
Copyright 2018 The Lawrence Journal-World. All rights reserved. This material may not be published, broadcast, rewritten or redistributed. We strive to uphold our values for every story published.